I'm David Kadavy. I'm an author and podcaster. I think we're in a creative age, where we humans have to be productive through ideas, instead of basic procedural- or even "knowledge"-work.
So, I explore how to make something when you don't know what you're making, how to get the courage to do things that might not work, and how to find that one thing that only you can do for the world.
I was an advisor to Timeful, an AI-powered calendar app, built upon my mind management principles. Google bought Timeful in 2015, and has integrated some Timeful features into their Calendar app.
My books include Mind Management, Not Time Management, The Heart to Start: Stop Procrastinating & Start Creating, Design for Hackers (which debuted in the top 20 on all of Amazon), and multiple "short reads". I've sold more than 100,000 books, in twelve languages.
I've spoken in eight countries, including appearances at SXSW, TEDx, The New York Public Library, The Museum of Contemporary Art, and The University of Chicago. My writing has been featured in Observer, The Huffington Post, Inc.com, Quartz, McSweeney's Internet Tendency, Upworthy, and Lifehacker.
On my weekly Love Mondays newsletter, I share the very best gems I've learned on how to make it as a creator. Sign up here:
On my fortnightly podcast, Love Your Work, I've learned from entrepreneurs, creators, and experts such as Dan Ariely, John Bokenkamp, Seth Godin, Joanna Penn, Vanessa Van Edwards, and many more.
In my past career as a designer, my work gained international recognition, including being featured in Communication Arts.
What is my why?
The motivations behind my work are personal. In 2004, I was stuck in a cubicle in Nebraska. One day, I gained enough courage to write my first post on this blog. Since then, I've worked in Silicon Valley as a product designer, spoken in eight countries, lived "mini lives" around the world, and moved to Colombia to double down on writing and podcasting.
I was able to make this shift thanks to following my curiosity, investing in myself, constantly improving my ability to be both creative and productive, and of course good and bad luck.
I'm so grateful for this change in direction, I want to prevent others from making the mistake I almost made – the mistake of living the wrong life.
What is my style?
I support my advice on creative productivity and motivation with research in behavioral science, neuroscience, and psychology. In fact, I worked with behavioral scientist Dan Ariely on a productivity app called Timeful. Google bought Timeful, and now its features are a part of Google Calendar.
But, I steer clear of dryly citing one study after another. I hate pop-sci books that are a blog post with 200 pages of filler, cherry picking studies that don't replicate. I prefer to have skin in the game. My advice is based upon my own personal experimentation. I make this stuff for myself first. That obviously won't work for everyone, but I strive to abstract it enough that people can apply it to their own situations.
Lately, I'm interested in antifragility – particularly as it applies to lifestyle design, how attempts at being rational cause us to be irrational, and making complex decisions under conditions of uncertainty. These all obviously have broad implications, but they do ultimately help a creative be more effective.
I question the mores of the traditional publishing industry, and – though I do have one traditionally-published book – I have learned a lot self publishing.
I also believe in the power of story to engage and ignite the human spirit – to inspire action and transformation.
Where am I?
I currently do most of my writing and thought experimentation on Medium. I'm very active on Twitter, have started dabbling in Instagram, and have a Facebook Page.
I currently live in a cabin in the country outside Medellín, Colombia, which I chose as my home base after extended stays in many places around the world.
I'm originally from Omaha, Nebraska, and have also lived in San Francisco; Chicago; San Jose; Kearney, Nebraska; Ames, Iowa.
I've done month-or-longer "mini lives" in Rome, Buenos Aires, Brooklyn, Austin, and Manhattan.
I frequently visit family in Scottsdale, Arizona and friends in Chicago.
Saying "Kadavy"
It's KAD-uh-VEE: "KAD" like "CAT," "uh" like "duh," "VEE" like "KNEE." But, David's not really too picky about what you call him, as long as it's not "jerkface," or something like that.
Common misspellings include cadavy, catavy, katavy, cadavey, kavady and kadavey.
Contacting David
If you want to get in touch with David, you can always @mention him on Twitter, but he also gets email at david (at) kadavy (dot) net. Please do not pitch David to be on the podcast (his podcast is no longer active). However, he'd probably love to be on your podcast.
Book a call with David
If you'd like to get real-time advice from David about self publishing, or anything else, book a call with him here.
He occasionally makes himself available for no cost, no obligation introductory, ask him anything, short chats. Check availability.
Photos / Headshots
For press photos, choose from any of the above, or click any of the below images to access a high-resolution version.
Thinking of writing a book?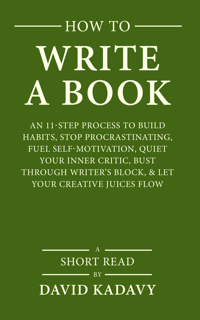 Download your FREE copy of How to Write a Book »
(for a limited time)