Buy direct from the author: ebook | MP3 audiobook
Buy from retailers:  Amazon | Everywhere else
It's a terrible feeling.
To know you have a gift for the world.
But to be utterly paralyzed every time you try to discover what that gift is.
Stop procrastinating and start creating!
In The Heart to Start, blogger, podcaster, and award-winning designer David Kadavy takes you on his journey from Nebraska-based cubicle dweller to jet-setting bestselling author, showing you how to stop procrastinating, and start creating.
The original and battle-tested tactics in The Heart to Start eliminate fear in your present self, so you can finally become your future self:
Tap into the innate power of curiosity. Find the fuel to propel you through resistance.
Catch yourself "Inflating The Investment." Prevent self-destructive time sucks and find the time to follow your art, even if you feel like you have no time at all.
Bust through "The Linear Work Distortion." Inspire action that harnesses your natural creative style.
Supercharge your progress with "Motivational Judo." Lay perfectionism on its back while propelling your projects forward.
Inspiring stories weave these techniques into your memory. From Maya Angelou to Seth Godin. From J. K. Rowling to Steven Pressfield. You'll hear from a Hollywood screenwriter, a chef, and even a creator of a hit board game.
Whether you're writing a novel, starting a business, or picking up a paintbrush for the first time in years, The Heart to Start will upgrade your mental operating system with unforgettable tactics for ending procrastination before it starts, so you can make your creative dreams a reality.
Take your first step: Buy The Heart to Start, and unlock your inner creative genius today!
Buy direct from the author: ebook | MP3 audiobook
Buy from retailers:  Amazon | Everywhere else
Thinking of writing a book?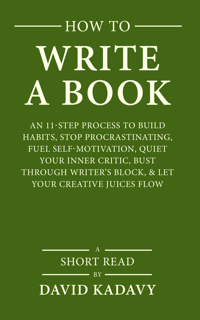 Download your FREE copy of How to Write a Book »
(for a limited time)