I firmly believe media studies should be the #1 subject taught in schools. Media shapes our conception of reality, and sometimes shapes reality itself. Computers have made math and spelling easy, but have made escaping the hypnotic effects of media nearly impossible.
Additionally, if you're someone, like myself, who creates media – whether that's a book, a podcast, YouTube videos, or any kind of social media – it makes sense to deeply understand media. It's the best way to make your message more clear and impactful, to the most people possible.
Here are the best media studies books I've read.
Understanding Media: You've heard the expression, "the medium is the message," but what does that really mean? In this theory-heavy book, Marshall McLuhan explains how each new medium alters our "sense ratios," in the process changing what content will spread. Read my Understanding Media book summary »
The Image: Media is powered by "pseudo events." They're events staged specifically to be covered by the news. This coverage makes these events seem even more real. Read my The Image book summary »
Amusing Ourselves to Death: Written in the 1980s, Amusing Ourselves to Death was mostly concerned with how the characteristics of television were changing the most serious arenas of life into mere entertainment. But, you can easily apply these principles to see how every new medium alters how we collectively tell the difference between truth and falsehood. Read my Amusing Ourselves to Death book summary »
Trust Me, I'm Lying: Ryan Holiday is today best known for his popularization of ancient Stoic philosophy. But in a past life, he was marketing director of American Apparel. In this confessional, he explains how he exploited bloggers' and journalists' motivations to get tons of free advertising by deliberately provoking them, impersonating other people, and, yes, straight-up lying. This is a chilling exposé of the modern media landscape, knowledge which can be used to get coverage in ways that don't involve lying.
So You've Been Publicly Shamed: Social media has given rise to public shaming on a scale never before seen. Jon Ronson presents case studies of people whose honest mistakes have made them canaries in the coal mine.
History of Media
Honorable Mention
The Prince, by Niccolò Machiavelli is arguably a media book, because Machiavelli talks about how to manage one's public perception – through mediums such as public executions. The disconnect Machiavelli presents between intentions and appearances makes Ryan Holiday's Trust Me, I'm Lying, a sort of modern-day, The Prince.
I've written a detailed post about what I believe to be The Mechanics of Media which determine which messages succeed in a medium.
Thinking of writing a book?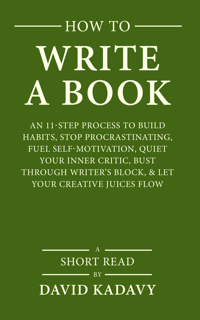 Download your FREE copy of How to Write a Book »
(for a limited time)