Love Your Work, my creative entrepreneur podcast, is proud to have the following sponsors. They take care of us, so let's take care of them. Try out one of these great offers they lined up for listeners like you.
We're no longer accepting sponsors, but thank you for your interest!
Past Sponsors
HoneyBook: HoneyBook organizes all of your client communications, bookings, contracts, and invoices. Get 50% off when you visit https://honeybook.com/loveyourwork.
LinkedIn Jobs: Find the right person meant for your business TODAY with LinkedIn Jobs. Get $50 off your first job post at https://linkedin.com/loveyourwork
Offgrid Mindfulness: Get 10% off the The Awake Mindfulness Clock when you use the code LOVEYOURWORK at https://offgridmindfulness.com. Purchase by December 16th, and get a free travel case.
University of California Irvine's Division of Continuing Education: Spring quarter is coming up, and registration is open! To advance your career in as little as six months, visit http://ce.uci.edu.
Backblaze: Gimmick-free, unlimited cloud backup for Macs and PCs for just $6/month per computer. Get a full-featured 15-day free trial at http://backblaze.com/loveyourwork.
Audible: Access an unbeatable selection of audiobooks. For a limited time get 3 months of Audible for just $6.95 a month. Go to http://audible.com/loveyourwork or text loveyourwork to 500500.
Babbel: The #1-selling language learning app in the world. Learn Spanish, French, Italian, German, Russian, Swedish, and more. Download the app to try for free at http://babbel.com.
Gusto: Refreshingly easy payroll, benefits, and HR for the modern small business. Get 3 months free once you run your first payroll http://gusto.com/loveyourwork.
EveryPlate: EveryPlate's chef-designed meals are just $4.99 per serving. That's like a cup of coffee! For 50% off your first box of EveryPlate with the code LOVEYOURWORK http://everyplate.com.
Earth Class Mail: Transforms the daily piles of mail, checks, and invoices into digital documents that you can act upon. Get 8% off the monthly plan or 10% off an annual contract with the promo code LOVEYOURWORK at http://earthclassmail.com.
Skillshare: An online learning community with over 18,000 classes in design, business and more. Get two months of unlimited premium access – for only 99¢! Go to http://skillshare.com/loveyourwork.
Weebly: Start your beautiful, modern, easy-to-build Online Store. Get 15% off at http://weebly.com/loveyourwork.
The Prepared: a totally free site full of practical disaster-preparedness information, without any of the normal "prepper" propaganda or weirdness. Go to http://theprepared.com.
Brandfolder: Help your team keep your brand consistent. Unlock the complete potential of all your brand assets with a FREE 90 day trial: http://brandfolder.com/loveyourwork.
Readwise: Get highlights from your reading on Kindle or iBooks sent to your inbox every day, for FREE. Sign up here to start with some of David's favorite highlights from his new book The Heart to Start: http://readwise.io/heart.
Storyblocks: Download any of over 400,000 royalty-free stock images. Try out all the stock photos you can imagine FREE for 7 days. Go to storyblocks.com/loveyourwork
Videoblocks: Save on millions of studio-quality, royalty-free video clips. Try out all the stock video you can imagine FREE for 7 days. Go to videoblocks.com/loveyourwork
Pistol Lake: Ultra-functional apparel for minimalists. Get 10% off and a 100-day free trial of Pistol Lake apparel at http://pistollake.com/loveyourwork. Use the code LOVEYOURWORK at checkout.
SendPro: Print stamps and shipping labels straight from your computer – at discounted prices, with SendPro, from Pitney Bowes. Try SendPro FREE for 90 days at http://pb.com/loveyourwork.
Casper: To do great work, you've gotta sleep well. Casper is a an obsessively-engineered mattress for a shockingly fair price, that you can get delivered to your door with no hassles. Get $50 toward any mattress purchase by visiting http://casper.com/loveit. Use the promo code "LOVEIT".
Thinking of writing a book?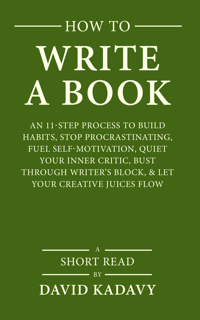 Download your FREE copy of How to Write a Book »
(for a limited time)