Subscribe to blog updates via email »
Use telepathy: you have to see people's faces when they are using your product, because you can naturally read people's minds just by seeing their facial expressions
Serendipity: some people think their iPod shuffle is psychic
The Dog Ears Design Principle: real-world physics in interaction make people gasp
Joy
Inspire First-Person Language: Get users to talk about themselves instead of about your product
T-shirt first development: If there was a t-shirt for your product, what would it say about the person who is wearing it? (your user). Make a women's fitted t-shirt!
Easter Eggs and other surprises: inside references
Tools for evangelism: help users defend this "totally lame waste of time"
Reduce their stress
Exercise the brain
Help them improve their body
Give them superpowers quickly: Electric Rain: "User must do something cool within 30 minutes"
Speed their knowledge acquisition: when you upgrade, don't ruin their expertise. What do experts know, and how can we get other people up to that speed more quickly? Hint: "best practices" are not motivating. "letting them off the hook" is the killer app.
Help with "reinvestment of mental resources into new problems": Experts vs. non-experts – experts "to-do" lists keep growing.
Focus
Create a culture of support: create mentors early in the learning curve. No dumb answers.
Do NOT insist on "inclusivity": jagon is good because passionate users "talk different"
Practice Seductive Opacity: brains love mystery, anticipation, curiosity. "It's not secrecy, it's theater" The UPS guy is like a sex symbol. Everyone loves to get the amazon package and open it up. Add an unboxing experience to your product.
Do what this guy does: Gary Vaynerchuck – has a video blog on tasting wine. "Most people in the wine industry are douchebags…Wine has been put on a pedestal…Stop drinking Yellow Tail people!…If you love something, love it…I love White Castle sliders, but I don't eat them EVERY MEAL."
Technorati Tags: sxsw
Thinking of writing a book?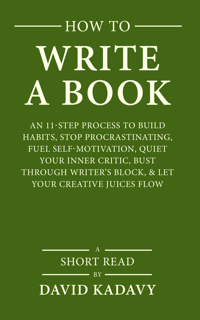 Download your FREE copy of How to Write a Book »
(for a limited time)