Subscribe to blog updates via email »
We're well into 2017 now, and I've been reflecting on 2016. It was a great year. In fact, I more than quadrupled my creative output.
I'm just talking about words published here. I'm not even talking about the weekly episodes I published here on Love Your Work. Almost every episode of Love Your Work so far has been in 2016.
I spent much of 2016 experimenting with some methods of optimizing my creative output, and I'll be sharing them today.
This post originally appeared on Medium.
Sponsors
Freshbooks: When you're billing your clients, the last thing you want to waste your time and mental energy on is creating invoices. FreshBooks customers get paid an average of 5 days faster. Get your free 30-day trial at https://kadavy.net/freshbooks
Treehouse: Take your career to the next level with 1000's of training videos from experts. Treehouse is offering our listeners a free trial. To claim your free trial, and support the show, just go to https://kadavy.net/treehouse
Subscribe to Love Your Work






Listen to the podcast episode
Thinking of writing a book?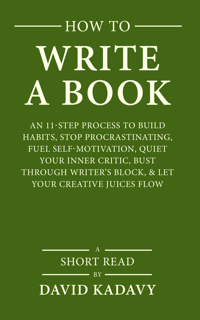 Download your FREE copy of How to Write a Book »
(for a limited time)