Subscribe to blog updates via email »
One of the best ways to impact others, while making money, is through building online courses. And, if you're considering writing a book, developing an online course is a great way to validate your idea, and see if your advice works.
But, building online courses can be totally overwhelming. It seems there's so much you need to know about developing it, and marketing it. Then, there's all of the technical nuts and bolts for collecting payment, and delivering the course.
Like many things, your vision of what your online course could be can get in the way of you even starting.
I learned the hard way just how much energy you can waste with things that don't add value to your course. And, what I learned can be applied to product development at large.
Sponsors
WP Engine: Be prepared when you launch a WordPress site. WP Engine has an e-book full of checklists for launching your WordPress site. Download The Ultimate Pre-Launch Checklist for WordPress Sites at wpengine.com/pre
Freshbooks: When you're billing your clients, the last thing you want to waste your time and mental energy on is creating invoices. FreshBooks customers get paid an average of 5 days faster. Get your free 30-day trial at https://kadavy.net/freshbooks
D4H Video: Get $100 off my flagship design course when you use the code LOVEIT at https://kadavy.net/video
Subscribe to Love Your Work






Listen to the podcast episode
Thinking of writing a book?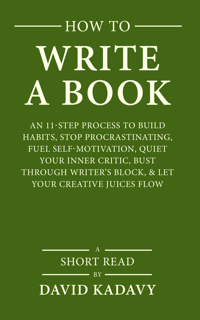 Download your FREE copy of How to Write a Book »
(for a limited time)