Subscribe to blog updates via email »
When something bad happens, it's tempting to think that you made a bad decision. But the quality of your decision making doesn't always align with the quality of your outcomes.
Sometimes you make a good decision, and you have a bad outcome. Even more dangerous, sometimes you make a bad decision, and have a good outcome (you'll learn why).
Annie Duke (@AnnieDuke) is a former professional poker player, and a decision strategist. She's dedicated to improving decision-making skills around the world amongst adults and children. She's author of Thinking in Bets: Making Smarter Decisions When You Don't Have All the Facts.
In this conversation, you'll learn:
We often think of life as like a game of chess. Why is it actually more like a game of poker?
How do we separate luck from skill? Learn the most common mental error people make that holds them back from ever learning to make better decisions.
Why do strong opinions make you dumber? Learn how to overcome "motivated reasoning" to make more accurate predictions, and better decisions.
New Weekly Newsletter: Love Mondays
Start off each week with a dose of inspiration to help you make it as a creative. Sign up at: kadavy.net/mondays
Join the Patreon for (new) bonus content!
I've been adding lots of new content to Patreon. Join the Patreon »
Subscribe to Love Your Work






Listen to the Annie Duke Interview
Theme music: Dorena "At Sea", from the album About Everything And More. By Arrangement with Deep Elm Records. Listen on Spotify »
Thinking of writing a book?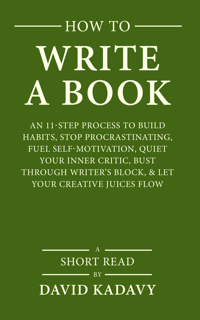 Download your FREE copy of How to Write a Book »
(for a limited time)