Subscribe to blog updates via email »
I think this was his way of suggesting that one smile. From his Compleated Autobiography.
There are two sorts of people in the world, who with equal degrees of health and wealth and the other comforts of life, become the one happy, the other unhappy. Those who are to be happy fix their attention on the pleasant parts of conversation, and enjoy all with cheerfulness. Those who are to be unhappy think and speak only of the contraries. Hence they are continually discontented themselves, and by their remarks sour the pleasures of society, offend personally many people, and make themselves everywhere disagreeable. If these people will not change this bad habit, and condescend to be pleas'd with what is pleasing, it is good for others to avoid an acquaintance with them, which is always disagreeable, and sometimes very inconvenient, particularly when one finds one's self entangeld in their quarrels.

An old philosophical friend of mine, grown from experience very cautious in this, carefully shun'd any intimacy with such people. He had, like other philosophers, a thermometer to show the heat of the weather, and a barometer to mark when it was likely to prove good or bad; but there being no instrument yet invented to discover at first sight this unpleasing disposition in a person, he for that purpose made use of his legs. One was remarkably handsome, the other by some accident crooked and deform'd. If a stranger at the first interview regarded his ugly leg more than his handsome one, he doubted him. If he spoke of it, and took no notice of the handsome leg, that was sufficient to determine my philosopher to have no farther acquaintance with him.

I therefore advise these critical, querulous, discontented, unhappy people that if they wish to be loved and respected by others and happy in themselves, they should leave off looking at the ugly leg.
Thinking of writing a book?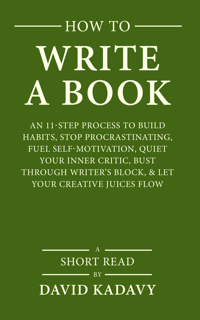 Download your FREE copy of How to Write a Book »
(for a limited time)