Subscribe to blog updates via email »
Bernadette Jiwa (@bernadettejiwa) thinks there's been an obsession with data in entrepreneurship over the past several years. When we're not sure about something, we're encouraged to run tests.
I've even heard the advice before "test everything." Really? Test EVERYTHING? If you really know anything about statistics, you'll know that many things in a budding venture don't have a large enough sample size to be tested. If you're testing literally EVERYTHING, you'll get nothing done, and your company will have no vision.
Bernadette is author of the new book, Hunch: Turn Your Everyday Insights into the Next Big Thing. In it, she teaches you how to harness the power of your intuition, recognize opportunities other people miss, and create breakthrough ideas.
Seth Godin calls Hunch "a modern classic." You can buy Hunch at kadavy.net/hunch.
In this conversation, I talk with Bernadette about:
Why did a hat salesman in New York do a better job at predicting the election results than data scientists like Nate Silver did?
How did the shopping cart get invented? If the inventor had gone with the initial data, we might be stuck hauling baskets all over Whole Foods.
Hunch is Bernadette's sixth book, so she has lots of publishing wisdom I was eager to soak up. She'll share her personal story about happily returning her advance check to a publisher. They wanted her to compromise her values.
We'll also hear what Bernadette learned working closely with Seth Godin. She was the editor of Seth's giant book, "This Might Work."
Join the Patreon for (new) bonus content!
I've been adding lots of new content to Patreon. Join the Patreon »
Sponsors
SendPro: Print stamps and shipping labels straight from your computer – at discounted prices, with SendPro, from Pitney Bowes. Try SendPro FREE for 90 days at http://pb.com/loveyourwork.
Casper: To do great work, you've gotta sleep well. Casper is a an obsessively-engineered mattress for a shockingly fair price, that you can get delivered to your door with no hassles. Get $50 toward any mattress purchase by visiting http://casper.com/loveit. Use the promo code "LOVEIT".
Subscribe to Love Your Work






Listen to the Bernadette Jiwa Podcast Interview
Thinking of writing a book?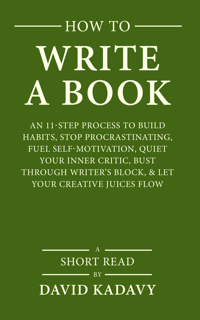 Download your FREE copy of How to Write a Book »
(for a limited time)