Subscribe to blog updates via email »
This is the time of year when we make resolutions. Very few of us will actually keep them.
The reason we can't keep resolutions is that resolutions don't work. We would be better at reaching their goals if they built habits, instead.
BJ Fogg (@bjfogg) is a behavioral scientist at Stanford University. He specializes in "Behavior Design."
BJ has a new book coming out, right now in the beginning of 2020. It's called Tiny Habits.
I wanted to have him back on the show to announce the book. But then I realized that this episode on how to build good habits is so good that it's worth running again.
Here's what you'll learn:
You need to pick habits with the right characteristics to be successful in building those habits. What are the components of a habit that will stick?
What are the most common mistakes people make in trying to build habits?
You've probably heard that it takes 21 days to build a habit. That's actually a myth. How long does it really take to build a habit?
Our Weekly Newsletter: Love Mondays
Start off each week with a dose of inspiration to help you make it as a creative. Sign up at: kadavy.net/mondays
Join the Patreon for (new) bonus content!
I've been adding lots of new content to Patreon. Join the Patreon »
Sponsors
HoneyBook: HoneyBook organizes all of your client communications, bookings, contracts, and invoices. Get 50% off when you visit https://honeybook.com/loveyourwork.
Subscribe to Love Your Work






Listen to the BJ Fogg Interview
Theme music: Dorena "At Sea", from the album About Everything And More. By Arrangement with Deep Elm Records. Listen on Spotify »
Thinking of writing a book?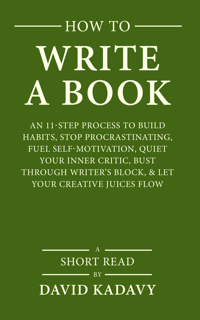 Download your FREE copy of How to Write a Book »
(for a limited time)