Subscribe to blog updates via email »
"I started a blog, but I never update it."
"I know I should start a blog, but I haven't gotten around to it."
Are these things you find yourself saying? I have just the thing to help you.
I've spent more than 10 years going from starting a crappy little blog on Blogger.com, to landing dream jobs, dream clients, passive revenue, a book deal for a best-selling book, and eventually, selling my own products.
I want to share what I learned along the way, so you can have similar success, without waiting 10 years.
Why good advice doesn't work
There's tons of advice out there on starting a blog, and making money from it. I constantly have people coming to me for advice, looking to quit their jobs, and have a life like the one I've built. (I've made a habit of living in various locations while I run my business. It's fun.)
Much of the advice out there is practically correct: If you don't have a problem with willpower, and follow the instructions, YES, building an online business is simple.
But if you're like most people, you struggle with motivation. When you realize everything required to start an online business, you get so overwhelmed, you want to give up.
That's why this course is designed to get you to take action.
I'll teach you my formula, so you can use it to motivate yourself to take action, and eventually build the business, and life, of your dreams.
Only Available LIVE on Periscope (This is Your One Chance, so Don't Blow it)
To be sure you take action, you'll need to commit to attending this course LIVE. I'll hold five (5) sessions on Periscope, each at the same time, every day of next week.
It's strongly advised that you attend these sessions LIVE. If that's impossible for you, remember, the recordings will be up for only 24 hours before they disappear FOREVER.
(This is how Periscope works, but it happens to be perfect to motivate you to watch all of the course sessions.)
This course is being held for FREE, ONE TIME ONLY. There are currently NO PLANS to hold it EVER AGAIN.
Course Curriculum
Each class will be held at noon CST, only on Periscope.
Monday, September 14: What to blog about (and why it doesn't matter)
Tuesday, September 15: Start your email list the right way (and save yourself headaches)
Wednesday, September 16: Launching explosive blog posts
Thursday, September 17: Earn your first $1,000 of passive revenue
Friday, September 18: Selling your first product
How to enroll and make sure you don't miss a session
All you have to do is follow me on Periscope. You'll get notified whenever I'm broadcasting.
1. Download & install Periscope for iPhone or Android
2. Search for me ("David Kadavy") on Periscope

3. Tap the follow button
4. Tune into the broadcasts
Again, this class is ONLY available on Periscope, so this is your one chance to learn my tricks, and even ask me a few questions. See you in class!
Let your followers know with a retweet below:
I'm doing a FREE course next week, & it's only available LIVE on #Periscope http://t.co/50KcfbAIai #blog2bling

— ? David Kadavy (@kadavy) September 8, 2015
Sign up for email notifications
If you don't have a mobile device that runs Periscope, or want to be double-sure you don't miss a broadcast, sign up for email notifications of my Periscope broadcasts.
Thinking of writing a book?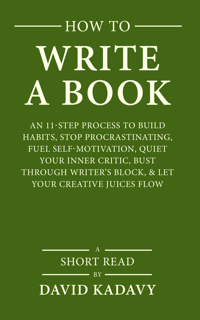 Download your FREE copy of How to Write a Book »
(for a limited time)