Subscribe to blog updates via email »
You may have noticed that I haven't posted for awhile. Don't worry, I'm not a blog abandoner, I have been investing my blogging time in transferring my blog from blogger to Movable Type, and it has been a much more involved process than I had anticipated. If you've been considering making the move, I suggest that if you are in fact going to do it, do it as soon as possible.

To do so, I had to:
So, now my blog is operational again, but there are still a few more things that need to be done:
Refine my templates and stylesheets. Things are still a bit messy, visually.
Review the semantic markup. I noticed that MT makes the date an h2 and the post title an h3. That's ridiculous! Maybe I'll get a better search ranking next time someone searches for "October." Didn't notice if Blogger did it any differently, however.
Categorize my posts. That "Categories" header looks pretty dorky all alone.
Make a seperate "portfolio" blog. I need to get more of my GD work up here. I'll add a tab above once its started up.
Get a Google AdSense account. Maybe I can cover 1% of that hefty $99/year hosting plan.
I'm sure there's much more, but I'm glad this Blogging thing is workiing out. Blogger was a good, low-risk, low-maintenance way to get started. I just hope MT won't prove to be too much work for me to ever post.
Thinking of writing a book?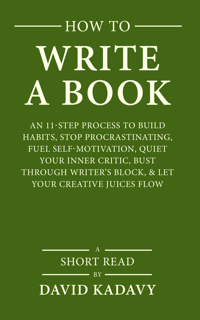 Download your FREE copy of How to Write a Book »
(for a limited time)