Subscribe to blog updates via email »
Dan Ariely (@danariely) has more opportunities than he knows what to do with. As a James B. Duke professor of Psychology and Behavioral Economics at Duke University and author of New York Times best-selling books, such as Predictably Irrational, he has lots of demands on his time.
Dan has to say "no" to a lot of opportunities that don't have a clear payoff. But, surprisingly, he also says "no" to a lot of opportunities that do have a clear payoff.
That's because, as Dan tells us in this conversation, he gambles with his time. He intentionally does some small amount of things that don't have a clear payoff. In order to have the space and time for those gambles, he needs to say "no" to some sure bets.
In this episode, we'll learn more about how Dan gambles with his time. We'll also learn:
How did "gambling" with his time lead Dan to publish his exciting new graphic novel, Amazing Decisions: The Illustrated Guide to Improving Business Deals and Family Meals?
The creative process for Dan's new graphic novel is a big departure from that of his research papers and books. How did he navigate the uncertainty when collaborating with an artist?
With everything Dan knows about human behavior, how does he design his habits, rituals and routines to optimize creative output and spark motivation?
This isn't the typical conversation with the living legend of behavioral science, Dan Ariely. If you want to know more about his groundbreaking work on irrationality, check out our first conversation on episode 51.
A quick note here: Dan and I talk about "Timeful" a number of times throughout this conversation. If you're not familiar, Timeful was a productivity app that Dan and I collaborated on. It later sold to Google and some of the Timeful features are integrated into Google Calendar.
Our Weekly Newsletter: Love Mondays
Start off each week with a dose of inspiration to help you make it as a creative. Sign up at: kadavy.net/mondayss
Join the Patreon for (new) bonus content!
I've been adding lots of new content to Patreon. Join the Patreon »
Sponsors
Offgrid Mindfulness: Get 10% off the The Awake Mindfulness Clock when you use the code LOVEYOURWORK at https://offgridmindfulness.com. Purchase by December 16th, and get a free travel case.
HoneyBook: HoneyBook organizes all of your client communications, bookings, contracts, and invoices. Get 50% off when you visit https://honeybook.com/loveyourwork.
Listen to the Dan Ariely Interview
Theme music: Dorena "At Sea", from the album About Everything And More. By Arrangement with Deep Elm Records. Listen on Spotify »
Thinking of writing a book?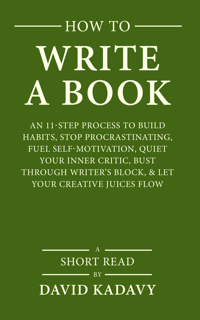 Download your FREE copy of How to Write a Book »
(for a limited time)