Subscribe to blog updates via email »
Daniel J. Wilson was working on a screenplay when I met him during a mini life in Buenos Aires several years ago. I'd soon learn that he was also an accomplished artist, with his work covered in The New York Times, The Wall Street Journal, and The London Times, and displayed all over the world, including the Museum of Modern Art in New York.
Daniel has also worked in film, his IMDB page includes editing credits for a number of documentaries and TV series, co-producer credits for PBS's Frontline series, credits as an actor. He's also a competitive cycler, a former NYC Yellow Cab driver, and he's currently a PhD candidate in neuroscience.
If that weren't enough, Daniel's got a new app. It's called Minutiae. It's a bit of an "anti-social" network. When Instagram encourages you to scroll through lots of photos and make your life look amazing, this app is dedicated to capturing the mundane, everyday details of life.
I hear lots of people lament their varied interests. They're usually afraid to follow their curiosity because they're afraid of what they'll leave behind.
I've experienced this a lot myself. As I've made the switch to designing in advertising and architecture, to designing for startups, to founding my own startup, to writing books, and starting this podcast – you always have to wonder if you're killing your career when you switch paths.
Here's just a few things you're going to learn in this conversation:
Daniel's app Minutiae is delightfully impractical. It won't get acquired and it won't go public. How do you get the funding to build an app that's not a business?
Why did Daniel go through all of the work to get his NYC Yellow Cab license? He actually ended up working as a cab driver!
Daniel's always switching from one field to another, and planning adventures in his life. Hear how he thinks about learning how to know the unknown.
Join the Patreon for (new) bonus content!
I've been adding lots of new content to Patreon. Join the Patreon »
Sponsors
Pistol Lake: Ultra-functional apparel for minimalists. Get 10% off and a 100-day free trial of Pistol Lake apparel at http://pistollake.com/loveyourwork. Use the code LOVEYOURWORK at checkout.
Skillshare: An online learning community with over 18,000 classes in design, business and more. Get two months of unlimited premium access – for only 99¢! Go to http://skillshare.com/loveyourwork.
Subscribe to Love Your Work






Listen to Daniel J. Wilson Podcast Interview
Thinking of writing a book?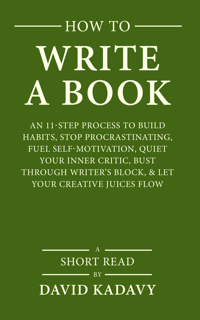 Download your FREE copy of How to Write a Book »
(for a limited time)