Subscribe to blog updates via email »
David W. Galenson is an economics professor at The University of Chicago. He's also a visiting professor at other schools, such as MIT. David is an unusual economist in that he studies the economics of art.
Have you ever noticed how some young geniuses have rapid success? Have you wondered when your work will finally get noticed?
It turns out, there are two totally different approaches to making your art, and the approach that you take can drastically affect when you'll find success.
I recently picked up David's book, Old Masters and Young Geniuses: The Two Life Cycles of Artistic Creativity, and I found it so fascinating, I had to have him on the show.
David's theory is that there are two totally different approaches to making one's art: You might be a conceptual innovator, in that you take a concept and run with it. Or, you might be an experimental innovator – you might be tweaking for a lifetime, trying to figure something out.
You may have heard about Galenson's work on Malcolm Gladwell's podcast, Revisionist History. There's an episode that uses Galenson's theory to explain why Leonard Cohen's song, Hallelujah took so long to become popular.
In this talk, you'll learn:
What makes someone a conceptual innovator? What about an experimental innovator?
Who are some well known innovators in each category? You'll hear about Steve Jobs and Steve Wozniak, Bob Dylan, Picasso, Alfred Hitchcock, and many more.
Can you change your innovation style? Or are you just better off embracing your style?
Support the show
Put your money where your mind is. Patreon lets you support independent creators like me. Get early access, bonus content, and other perks. Support now on Patreon »
Sponsors
Brandfolder: Help your team keep your brand consistent. Unlock the complete potential of all your brand assets with a FREE 90 day trial: http://brandfolder.com/loveyourwork.
Skillshare: An online learning community with over 18,000 classes in design, business and more. Get two months of unlimited premium access – for only 99¢! Go to http://skillshare.com/loveyourwork.
Readwise: Get highlights from your reading on Kindle or iBooks sent to your inbox every day, for FREE. Sign up here to start with some of David's favorite highlights from his new book The Heart to Start: http://readwise.io/heart.
Subscribe to Love Your Work






Listen to the David W. Galenson Interview
Theme music: Dorena "At Sea", from the album About Everything And More. By Arrangement with Deep Elm Records. Listen on Spotify »
Thinking of writing a book?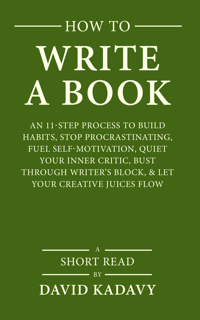 Download your FREE copy of How to Write a Book »
(for a limited time)