Subscribe to blog updates via email »
I was recently on my friend Almog's new podcast, which is called Unstagnate, and he did such a great job of researching, and teasing out the things I've been thinking about a lot lately that I just had to share it with you, which he was kind enough to let me do.
In this discussion, I'll share the rituals and thought frameworks I used to write my first book, Design for Hackers, in half the time of most books like it. Bear in mind that's total time from book deal to book release. It actually was 12 hours a day of agony, but I'll tell you about the cohesive personal productivity system I've devised to make my flow states happen at the right times.
You'll also hear the story behind how that first book even happened – how I had set up my entire life so that when something like that opportunity came along – I would be ready for it.
Also, how did I get the opportunity to work with behavioral scientist Dan Ariely, on features that are now being integrated into Google Calendar, such as "Goals" and "Reminders."
Find out why you might want to grab a pen BEFORE you grab your morning coffee. How to create a virtuous cycle of productivity to train yourself to focus more deeply. Why is it so important to develop a well-defined worldview? How do I weigh the pros and cons of various ways of naming things, such as my book Design for Hackers, and this podcast, Love Your Work? How does the name of this podcast tie into landing big guests like Steve Case and Jason Fried, and how do I convince such busy people to be so generous with their time?
Sponsors
WP Engine: Save mental energy managing your WordPress site with easy-to-use DIY features from WP Engine's managed WordPress hosting. Visit wpengine.com/loveyourwork for up to 4 months free.
ActiveCampaign: Want to maximize your email marketing? You should try ActiveCampaign. I switched last year from MailChimp and I LOVE it. With email marketing, marketing automation, AND a sales CRM – it's a powerful, intuitive, and complete platform. Claim your 14-day free trial of ActiveCampaign at activecampaign.com/loveyourwork
Audible: Choose from over 180,000 audiobooks on any subject you can imagine. Claim your free audiobook at https://kadavy.net/audible
Subscribe to Love Your Work






Listen to the show
Show Notes
Thinking of writing a book?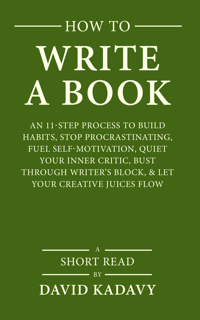 Download your FREE copy of How to Write a Book »
(for a limited time)