Subscribe to blog updates via email »
Demir and Carey Bentley are co-founders of Lifehack Bootcamp, where they help professionals make more of their time and energy, to get more results. They once found themselves getting sucked into the prevailing values of the place they lived.
The place you choose to live can have an outsized influence on how you choose to live. If where you live is a bad influence on you, you'll do things that aren't good for you. If where you live is a good influence on you, you'll do things that are good for you.
The place you live can influence you through cost of living, through weather, through how you get around – even through through culture. If people in a place value one thing, it can make it hard for you to value another thing.
To design your life, start with your surroundings
If you're going to love your work, you need to design your surroundings so you can pursue your values. One way to do that is by choosing the right place to live.
The influence of place has long been an interesting topic for me because I've long felt like I was born in the wrong place. It wasn't until after college – after I had traveled a small amount – that this feeling really hit me.
"Nebraska" for many people is synonymous with "the middle of nowhere." For me, until then, it was simply where I lived. As I struggled to find work after college and to set up a life somewhere, that was when I really started to feel profoundly unlucky for being born and raised in "the middle of nowhere."
As an aspiring designer, the design scene in Nebraska seemed nonexistent to me. I wanted to live in a cosmopolitan city such as San Francisco, or Seattle. Even Minneapolis was a bustling metropolis, in my mind. Yet I still felt stuck, because of family ties, a lack of social connections in other places, and simply because I was afraid of change.
Now, I've lived in some big cities. I lived in the Bay Area. I spent a couple of months in the NYC area. I lived for eight years in Chicago.
The sneaky influence of cultural mindset
Now, I know that much of the fear I felt for leaving "the middle of nowhere" was cultivated by the mindset of the people who lived there. When I finally did leave Nebraska for California, it didn't calm my nerves much to hear the fear-laden objections of the people around me. "The traffic is horrible," "you'll never buy a house," or "the people are different" (to which I thought, yeah, that's kind of the idea).
Same thing when I moved from San Francisco to Chicago. I remember one guy said, "What's in Chicago, besides a bunch of big buildings?!" Uh, you run a Ruby on Rails dev shop, genius. (That technology was invented by a Chicago company.)
It took many years of living many places to recognize how, no matter where you live, you can get swept up in the concerns that prevail the culture. Those big cosmopolitan places where I was desperate to live were no exception.
How to leave "New York"
Which brings us to the topic today of lifestyle design. How to "leave New York," or really anyplace that's a bad influence on your behavior.
Demir and Carey were living in NYC, working tons of hours, and paying the price with failing health. Now they live right around the corner from me, in Medellín, Colombia – when they aren't traveling the world.
I joined them in their home, just a few days after having their very first child. We talked about how they escaped the toxic mental distortions of the NYC lifestyle, traveled the world, and designed a new, better-balanced life, in another country.
In this conversation, you'll learn:
Demir says he started doing "irresponsible things" when he finally hit his "Office Space moment." What did he do that would have certainly gotten him fired? It's a funny story, but there's a lesson about lifestyle design in there, too.
What's the "champagne moment" exercise? If you have a vision of a better life, but don't know where to start, learn a mental hack you can apply this week to make progress toward that vision.
Looking for the next travel destination, and wondering whether you can get some work done? Learn about the "Pilates test." What does Pilates have to do with finding reliable WiFi?
Thanks for sharing my work!
On Instagram, thank you to @amrassaid and @motherhoodandmerlot.
On Facebook, thank you to the Hello Boss Girl Bossgirl Breakthroughs Group.
On Twitter, thank you to @winterknit, @StefanHeineken, @SaraTaricani, and @jovvvian.
My Weekly Newsletter: Love Mondays
Start off each week with a dose of inspiration to help you make it as a creative. Sign up at: kadavy.net/mondays
Join the Patreon for (new) bonus content!
I've been adding lots of new content to Patreon. Join the Patreon »
Sponsors
LinkedIn Jobs: Find the right person meant for your business TODAY with LinkedIn Jobs. Get $50 off your first job post at https://linkedin.com/loveyourwork
Listen to the Podcast
Theme music: Dorena "At Sea", from the album About Everything And More. By Arrangement with Deep Elm Records. Listen on Spotify »
Thinking of writing a book?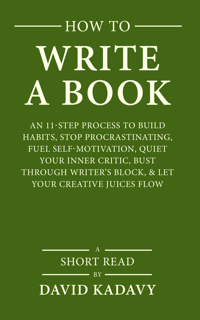 Download your FREE copy of How to Write a Book »
(for a limited time)