Subscribe to blog updates via email »
Donald M. Rattner (@donaldrattner) is an architect, and author of My Creative Space: How to Design Your Home to Stimulate Ideas and Spark Innovation.
I've talked a lot on this podcast about matching your work to your mental state. If you're in the mood to do the work you're doing, everything is going to be easier. But you can also match your mental state to the work. You can change your mental state so the work you need to be doing gets done.
One powerful way to change your mental state is to change your surroundings. If you design your space to think more creatively, for example, you'll do better creative work.
In My Creative Space, Donald draws upon mountains of research from the field of environmental psychology, to show you how to change your space to change your creativity.
In this conversation, you'll learn:
How has the field of environmental psychology shown how the spaces where you work can change everything from your thinking to your physiology?
Research shows that the optimal light level for creativity is 150 lux, and the optimal noise level for creativity is 70 dB. Just how bright and loud is that, and why does it work?
Travel posters – especially vintage travel posters – may help you think more creatively. Donald explains why – when it comes to creativity – "construal level theory" (something you might remember from my conversation with David Rock) favors things far away in distance and time.
This conversation is packed with knowledge, and so is Donald's book.
Image: The Moneylender and His Wife, Quentin Massy
New Weekly Newsletter: Love Mondays
Start off each week with a dose of inspiration to help you make it as a creative. Sign up at: kadavy.net/mondays
Join the Patreon for (new) bonus content!
I've been adding lots of new content to Patreon. Join the Patreon »
Sponsors
Upcoming webinar: How can you find the motivation to make it as a solopreneur? I'll be sharing my tricks in my upcoming webinar. Learn more at http://kadavy.net/motivation.
Subscribe to Love Your Work






Listen to the Architect Donald M. Rattner Interview
Theme music: Dorena "At Sea", from the album About Everything And More. By Arrangement with Deep Elm Records. Listen on Spotify »
Thinking of writing a book?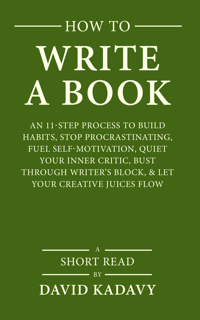 Download your FREE copy of How to Write a Book »
(for a limited time)