Subscribe to blog updates via email »
Dr. Aziz Gazipura is author of a great book, Not Nice: Stop People Pleasing, Staying Silent, & Feeling Guilty… And Start Speaking Up, Saying No, Asking Boldly, And Unapologetically Being Yourself.
What does it mean to be a "good person?" If someone asks you to do something, do you have to do it? If someone invites you to hang out, do you have to make the time? If someone shares an idea, do you have to pretend to like it?
Some people think that to be a "good person," you have to be "nice." You can't make someone upset. You can't hurt their feelings. So you withhold criticism, you don't express what you want.
Eventually, you start to forget who you are, what's important to you, and what you truly want to get out of your life.
You'll be a better person if you aren't too "nice"
If you're going to love your work, you need to be authentic. And that's hard to do if you're too busy people pleasing to think about what it is you want.
To be a good person, you don't have to be "nice" – at least not in the way many people think about what it means to be nice. In fact, to be a good person, you can't be too "nice."
How being treated "not nice" led to a breakthrough in my career
I can think of a time when someone was not "nice" to me, and it was one of the best things that ever happened to me.
I was trying to come up with an idea to present at the SXSW conference. I wasn't famous for anything, but I had a number of accomplished friends who were authors or ran successful businesses.
So what do you do when you have no credibility, but you know people who do? You put together a panel. You get well-known people together, and moderate a discussion amongst them.
So I came up with an idea for a panel, and I pitched it over email to one of my accomplished friends.
He got back to me almost immediately. I still have the email. It said, "Hey man, I appreciate the intro but I don't think this is the best fit for me."
I was really devastated for the rest of that day. But the very next day, I looked back over this email, hated my life, and sighed. I really felt like a loser.
Finally, I said to myself, "okay, enough bellyaching. Time to come up with a different idea."
This sounds like I'm making this up, but I swear this is 100% true. The very next moment – the very next idea I had – was for me to do a talk called "Design for Hackers."
Through the process of pitching that idea to SXSW, I got my first book deal. To write a book called Design for Hackers. That launched my career as an author. That changed my life. That took me from being just another nobody to a respected, published, best-selling author.
It was all possible because my friend was not "nice." He didn't try to protect my feelings. He didn't try to go along with something that wasn't right for him. He was authentic.
By being authentic, he freed me up to be authentic. If he hadn't been honest, or if he had gone along with my first idea, just to be "nice," I would have been caught up doing something that wasn't right for me.
By doing what was right for him, my friend allowed me to do what was right for me.
Do what's right for others, by doing what's right for you
But how do you find the courage to do what's right for you, even if it might upset people in the short term?
I loved Not Nice so much. It really helped me see the ways I am too nice in my life. It helped me see how that doesn't just hurt me, but it hurts others, too. More important, it helped me see the fear and desire for approval at the root of my motivations to be too "nice."
In this conversation, you'll learn:
Dr. Aziz says, only apologize "when you act out of accordance with your own values." Easier said than done? Dr. Aziz will show you how to start with an "apology fast."
Dr. Aziz says "someone having hurt feelings does not automatically equal you doing something wrong…. You could hurt someone's feelings by giving them a compliment." Learn how to let go of "over-responsibility." You'll be more authentic, and you'll ultimately help others get what they truly want.
Dr. Aziz says "If you haven't asserted yourself very much…the idea that you're going to somehow glide into this really smooth way telling people no and asking for what you want, is a fantasy that's trying to deny the growth that's needed." Learn what you can do today to start getting comfortable saying no, ultimately have clearer boundaries, and living a more authentic life.
Listener Showcase
Jeffrey Mason self publishes books and tools that help create conversation, break down barriers, and inspire expanding one's parameters. You can learn more at www.jeffreymason.com.
My Weekly Newsletter: Love Mondays
Start off each week with a dose of inspiration to help you make it as a creative. Sign up at: kadavy.net/mondays
Listen to the Podcast
Theme music: Dorena "At Sea", from the album About Everything And More. By Arrangement with Deep Elm Records. Listen on Spotify »
Thinking of writing a book?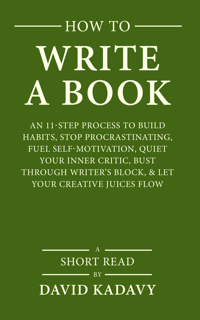 Download your FREE copy of How to Write a Book »
(for a limited time)