Subscribe to blog updates via email »
We're wired to seek pleasure, and avoid pain. But to make it as a creator, you need to push yourself outside of your comfort zone. Many things that feel good about creating can hold you back, while many things that feel bad are powerful fuel.
Stoicism is a philosophy that has been getting a lot of attention lately. Ryan Holiday, who we talked with on episode 31 is one modern popularizer of Stocism. In today's episode, I share with you eight mantras I tell myself to resist temptations that will only hurt my creative work in the long run.
Support the show
Put your money where your mind is. Patreon lets you support independent creators like me. Get early access, bonus content, and other perks. Support now on Patreon »
Subscribe to Love Your Work






Listen to the Podcast
Theme music: Dorena "At Sea", from the album About Everything And More. By Arrangement with Deep Elm Records. Listen on Spotify »
Thinking of writing a book?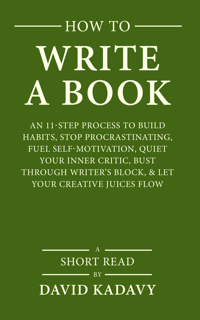 Download your FREE copy of How to Write a Book »
(for a limited time)