Subscribe to blog updates via email »
Whenever I'm searching for a recipe, I tend to search for the food item, then "simplyrecipes," and I always find something healthy and delicious, with clear instructions and beautiful photos, all posted by our guest today, Elise Bauer.
Honestly, I probably don't have to type in the "simplyrecipes" part because the site is extremely popular. It's been featured in Time Magazine and was named the #1 food blog by the Daily Meal 4 years in a row.
Whatever I'm looking for, I find it, because Elise has posted about 1,600 recipes over the past 15 years. She started SimplyRecipes when she was so sick, she had to move back in with her parents at the age of 40. At first, she was hand-coding her recipes in static HTML and just posting them to her personal site, Elise.com.
Now the site has grown so massive, she recently sold it to Fexy Media, but still handles all of the cooking and writing and posting of recipes.
I wanted to bring Elise's story to you not only because I love SimplyRecipes, but also because she has such a great story. As you'll hear in the interview, during a difficult time, she took the little things that were good in her life and expanded on them. She doubled down on love and built something great.
If you've been wondering: should you make your bed?, Elise shares her philosophy.
Sponsors
WP Engine: Save mental energy managing your WordPress site with easy-to-use DIY features from WP Engine's managed WordPress hosting. Visit wpengine.com/loveyourwork for up to 4 months free.
ActiveCampaign: Want to maximize your email marketing? You should try ActiveCampaign. I switched last year from MailChimp and I LOVE it. With email marketing, marketing automation, AND a sales CRM – it's a powerful, intuitive, and complete platform. Claim your 14-day free trial of ActiveCampaign at activecampaign.com/loveyourwork
Audible: Choose from over 180,000 audiobooks on any subject you can imagine. Claim your free audiobook at https://kadavy.net/audible
Subscribe to Love Your Work






Listen to the show
Show Notes
Thinking of writing a book?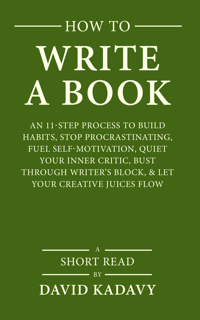 Download your FREE copy of How to Write a Book »
(for a limited time)