Subscribe to blog updates via email »
Today, I'm very happy to announce that I have a new book out. Have you ever heard the advice "just get started?" Have you ever been left wondering "yeah, but how?"
This was me when I was first starting on my own. I knew that the best way to make progress toward my dreams was to just get started. But that seemed easier said than done. It seemed each time I tried to start, I'd run into a fear, or a self-doubt, or I'd find a way to procrastinate.
My new book is called "The Heart to Start: Win the Inner War & Let Your Art Shine". It's available right now on Amazon at kadavy.net/heart. Please, please go get this book. It's the result of a lifetime of learning, and many months of work. It's short and to the point, and I really think it will help you reach your potential.
Thank you to all of the early readers of the book. Many people provided feedback and edits, and I could not have made the book what it is without you.
After you check out the book, I'd deeply appreciate an Amazon review. Especially those of you who have already read it. I've probably already asked you for a review, but I want to remind you – please, please write a review on Amazon.
When you have a book on Amazon, reviews are everything. You've gotta have reviews, because they help boost the book in Amazon's discovery engine. So when someone is looking at a related book, they see The Heart to Start. So please buy the book, and please leave an honest review. Again, you can find it at kadavy.net/heart.
And I'll have a sample chapter for you on today's show.
Join the Patreon for (new) bonus content!
I've been adding lots of new content to Patreon. Join the Patreon »
Sponsors
Brandfolder: Help your team keep your brand consistent. Unlock the complete potential of all your brand assets with a FREE 90 day trial: http://brandfolder.com/loveyourwork.
Subscribe to Love Your Work






Listen to the Podcast Interview
Theme music: Dorena "At Sea", from the album About Everything And More. By Arrangement with Deep Elm Records. Listen on Spotify »
Thinking of writing a book?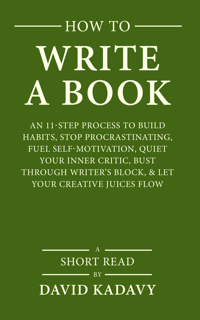 Download your FREE copy of How to Write a Book »
(for a limited time)