Subscribe to blog updates via email »
Today's guest is a hero of mine, who helped me find my own path. It was 2004, I was sitting in a gray cubicle in Nebraska. And I discovered a PDF on the Internet called "How to be creative." I read it, and it was one of the most moving and inspiring things I had ever read.
You know how sometimes you read something and you're like "yes! That's exactly what I was thinking! Except I didn't have words for it." This little PDF was like that for me. It was subversive, and edgy, and bold, and spoke to the non-conformist part of me that wanted to live outside of the template.
And it had these brilliant little cartoons in it. They were all the same format. And small. Very small.
---
It turns out they were all drawn on the back of business cards. Hugh MacLeod (Instagram), the man behind this PDF had been drawing these cartoons for 7 years by this point.
I came across his blog, called Gaping Void, and found more bold thinking and brilliant cartoons there. It was one of the blogs that inspired me to start my blog in 2004. I even put it in my "blog roll."
You see, there was no Twitter or Facebook, so that's how you would connect people and ideas. You'd just put a link to their blog on your blog. And that's how you would say "listen to this person. This person has things to say."
---
Since then, Hugh's cartoons have been seen everywhere. He's built a consulting business around the cartoons, helping companies define and express their culture. Companies like Microsoft, Cisco, Volkswagon, Zappos, eBay, and Intel. Hugh even illustrated a book with Seth Godin.
Well, I'm very excited to be connecting you with Hugh MacLeod's ideas today. Listen to this interview to discover how to overcome perfection paralysis in your work. How do you discover your creative DNA? How do you fill your work with the universal truths of human experience, to make it resonate with others. And ultimately, how, and why, do work that serves others.
Sponsors
Freshbooks: When you're billing your clients, the last thing you want to waste your time and mental energy on is creating invoices. FreshBooks customers get paid an average of 5 days faster. Get your free 30-day trial at https://kadavy.net/freshbooks
Treehouse: Take your career to the next level with 1000's of training videos from experts. Treehouse is offering our listeners a free trial. To claim your free trial, and support the show, just go to https://kadavy.net/treehouse
Subscribe to Love Your Work






Listen to the podcast episode
Thinking of writing a book?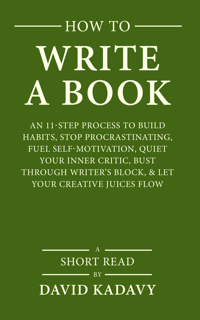 Download your FREE copy of How to Write a Book »
(for a limited time)