Subscribe to blog updates via email »
After some initial speed-bumps in keeping it in-stock, the 100-Word Writing Habit book is now available!
This new short read is based upon my popular email course. In it, you'll learn:
Why 100 words is more than you think.

 See how the words add up over time, and why 100 words is more than 100 words.

What beliefs are holding you back?

 Shatter the five writing myths, one by one.

What should you focus on to ensure success?

 Learn how to progress through the "three Cs" of writing, one at a time.
It's beautifully designed, with inspirational thoughts from Maya Angelou, Ernest Hemingway, Pablo Picasso, and more, about starting small, being consistent, and growing to master any craft.
Buy it on Amazon, B&N, or order from your local bookstore. You can also buy direct (2–3 weeks shipping).
Thinking of writing a book?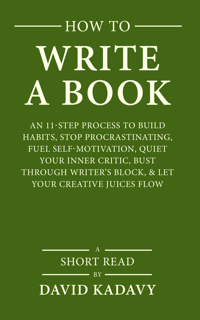 Download your FREE copy of How to Write a Book »
(for a limited time)