Subscribe to blog updates via email »
Do you want to love Mondays? If you already love Mondays, do you want to keep loving Mondays? I'm launching a new newsletter that will help you do just that.
It's called Love Mondays, and it's a weekly boost of inspiration to help you find the mindset to make it as a creative entrepreneur. If you're already on my email list, you've already been enjoying these.
Many of them include one of the more than 11,000 highlights I've built up over years of reading about how history's greatest artists and thinkers have carved out their own unique places in the world.
Others are the gems pulled out of conversations you've heard right here on Love Your Work.
Those of you already getting these emails know I told you about how Georgia O'Keeffe decided to quit modeling to double down on art. I've told you about how professor Dean Simonton's work shows that quantity of creative work leads to quality of creative work. I've shown you how neuroscientists have discovered that the best predictor of so-called "insight machines" is brain patterns that show a high level of self awareness.
Today, I'm going to give you an insight from comedian Steve Martin. If you ever feel like your big break will never come, this will keep you going.
And if you'd like to get a boost in your inbox every Monday morning, go sign up for the Love Mondays newsletter at kadavy.net/mondays
What should be our next Patreon goal?
Take our survey at kadavy.net/goals.
Join the Patreon for (new) bonus content!
I've been adding lots of new content to Patreon. Join the Patreon »
Subscribe to Love Your Work






Listen to the Podcast
Theme music: Dorena "At Sea", from the album About Everything And More. By Arrangement with Deep Elm Records. Listen on Spotify »
Thinking of writing a book?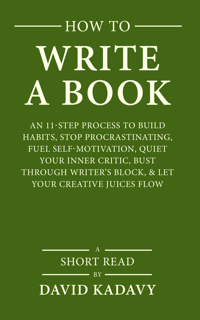 Download your FREE copy of How to Write a Book »
(for a limited time)