Subscribe to blog updates via email »
Jeff Goins is the author of The Art of Work: A Proven Path to Discovering What You Were Meant to Do.
In The Art of Work, Jeff explains why finding your calling doesn't always follow the neat storybook path that you expect. You have to listen to your life, engage in painful practice, and build bridges all to let your story emerge.
In this discussion, we talk about how clarity comes with action, what makes practice deliberate practice, and why frequency matters more than quantity.
He'll also share the most cringe-inducing story of asking someone out I think I've ever heard. Don't worry, there's a lesson to be learned from it.
If you've been wondering: should you make your bed?, Jeff talks about his approach to cleanliness (or lack thereof).
Sponsors
Treehouse: Take your career to the next level with 1000's of training videos from experts. Treehouse is offering our listeners a free trial. To claim your free trial, and support the show, just go to https://kadavy.net/treehouse
Audible: Choose from over 180,000 audiobooks on any subject you can imagine. Claim your free audiobook at https://kadavy.net/audible
ActiveCampaign: I recently switched from MailChimp to ActiveCampaign. Stop worrying about your email marketing by making sophisticated automations in an intuitive drag-and-drop interface with ActiveCampaign. Claim your 14-day free trial at https://kadavy.net/activecampaign
Subscribe to Love Your Work






Listen to the show
Show Notes
Thinking of writing a book?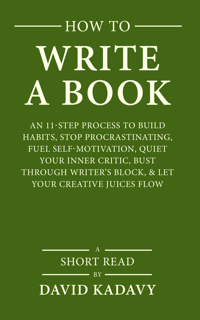 Download your FREE copy of How to Write a Book »
(for a limited time)