Subscribe to blog updates via email »
Jodi Ettenberg used to be a lawyer. She took a year off to travel 8 years ago, and never went back. Her blog, Legal Nomads, won a Lowell Thomas Award for best travel blog and has been featured in the New York Times, National Geographic, BBC Travel, CNN, and more.
Legal Nomads is full of tips on packing, planning, and budgeting for travel, as well as beautiful hand-drawn typographic food maps and t-shirts, and guides and translation cards for eating gluten-free while traveling. Jodi has written a book called The Food Traveler's Handbook, which shows you how to find cheap, safe & delicious food anywhere in the world.
This interview is full of wisdom on the benefits and challenges that come with a life of travel. Jodi is really insightful when it comes to recognizing how travel relates to all of human experience. If you're someone who has ever thought about making a big change Jodi did, or if you've ever struggled to be more minimal and have less stuff, you'll find this conversation especially inspiring and enlightening.
You may notice that there are a TON of book recommendations in this interview. There are links below for all of the books Jodi mentions. Remember, if you buy through those links, you'll be supporting the show.
If you've been wondering: should you make your bed?, Jodi shares her philosophy.
Subscribe to Love Your Work






Sponsors
Pavlok is the shocking wristband I used to quit my Facebook habit. I interviewed its creator, Maneesh Sethi, previously on the show. Now, you can get $50 off the Pavlok at https://kadavy.net/pavlok
SumoMe is more than a dozen great tools for growing your website and building your email list, all in one easy-to-install plug-in for ANY website. You've seen it used by Tim Ferriss, Wait But Why, and 200,000 other websites. Install it for free at https://kadavy.net/sumome and you'll be supporting the show.
Listen to the show
Show Notes
Thinking of writing a book?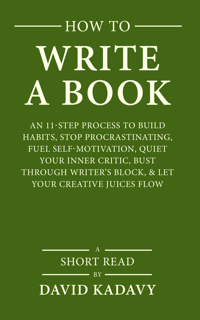 Download your FREE copy of How to Write a Book »
(for a limited time)