Subscribe to blog updates via email »
Jon Bokenkamp (@jonbokenkamp) wanted to be a screenwriter. So, he decided it was his job. He sat at his desk from nine to five every day, writing frantically, and each night he went to another job. One that paid him. He waited tables.
After three years, he sold his first screenplay. Then he sold some others here and there. Then the phone stopped ringing. After one failed script, he was contractually obligated to write one more.
That script became The Blacklist (Netflix). It's a thriller on NBC starring James Spader. They're starting their fifth season this week.
Spader plays Reddington, a veteran, private-jet-setting criminal who acts as an informant to the FBI, and who has a puzzling interest in agent Elizabeth Keen, played by Megan Boone.
In this conversation, we're going to learn:
What was the mindset that Jon put himself in to make it through the three-year project of writing his first screenplay?
How does Jon ward off his distractibility, and channel it into his writing method? I think it's a great lesson in how in creative work, the final product is totally different from the process used to get there.
How has Jon's writing process changed now that he has a whole team, and basically has to write a movie a week?
Jon is a Nebraska-native like me. Hopefully you won't mind listening to us reminisce a little about that strange place in the beginning. If not, skip ahead, and you'll hear some really great stuff on doing tough and long creative projects.
Image: Flickr user Thibault
Join the Patreon for (new) bonus content!
I've been adding lots of new content to Patreon. Join the Patreon »
Sponsors
Skillshare: An online learning community with over 18,000 classes in design, business and more. Get two months of unlimited premium access – for only 99¢! Go to http://skillshare.com/loveyourwork.
Subscribe to Love Your Work






Listen to the Jon Bokenkamp Podcast Interview
Thinking of writing a book?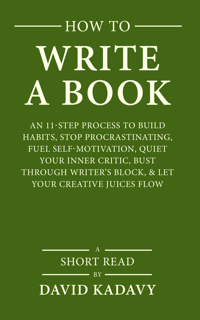 Download your FREE copy of How to Write a Book »
(for a limited time)