Subscribe to blog updates via email »
If you're an author who has received a Kindle Deal nomination email from Amazon, congratulations! In this post, I'll share with you my experience.
Step 1: Kindle Deal Nomination Email(s)
As I reported in my January 2020 income report, I got my first nomination email, for my book, The Heart to Start: Stop Procrastinating & Start Creating, on February 19, 2020.
Basically, it told me they might select the book for a deal between April and September. Here's what it said:
Hello,

We would like to nominate your title(s) for a Kindle Deal. If selected, it would be featured in the Amazon.com, Amazon.ca, and/or Amazon.in Kindle Store(s). The deal would run at some point between 04-01-2020 – 09-30-2020. Amazon will handle the price updates during this period.

If you would like to be nominated, please complete the steps below by 2/26/2020:
1. Click on the link: [REDACTED]
2. Enter the code: [REDACTED]
3. Read the terms
4. Fill out the form to accept the terms

The code is case-sensitive. If accessing it doesn't work, we recommend copying and pasting it in the latest version of your browser. You'll also want to remove any blank spaces appearing before or after the code.

Terms you are agreeing to:
1. Promotion start and end dates remain at our discretion. Due to system latencies, the exact start and end times of the Kindle Deal are approximate.
2. The list price of your title(s) selected for the Kindle Deal must remain the same for 30 days before, during, and for at least 7 days after the Kindle Deal.
3. Royalties will be calculated based on the promotional price (not your list price).
4. Title(s) included in Kindle Countdown Deals or Free Promotions 30 days before the start of the Kindle Deal will be ineligible. You will not be able to schedule a new Kindle Countdown Deal until 30 days after the end of this Kindle Deal. Amazon will cancel any Kindle Countdown Deals scheduled during the Deal's period or 30 days following the end of the Kindle Deal. We might not notify you of the cancellation.
5. The Kindle Deal is subject to change.
6. If you represent another author, by agreeing to participate you also confirm that you are authorized to agree on behalf of the author.
7. Selected title(s) may be promoted simultaneously in other Amazon marketplace promotions globally.

This is not a confirmation that your title(s) will be included in a Kindle Deal. If we decide to go ahead with the promotion, we'll send you a notification to confirm that your title(s) have been selected.

Kind regards,
The Kindle Direct Publishing Team
I quickly filled out the information they requested. Then I waited. And I waited.
Then, as I reported in my June 2020 income report, I got an almost identical email on July 20th. This time, instead of a six month window, it was a three-month window – September through November. Shorter window, but some overlap.
No idea why I got two emails. Maybe the coronavirus pandemic sidetracked the previous plans.
Step 2: Confirmed for a Kindle Daily Deal
Finally, as reported in my August 2020 income report, I received a confirmation email from Amazon. This told me on which date, at what price, and in which market the deal would run.
My $9.99 book (Self-Help/Creativity genre) would be automatically discounted to $1.99 on September 20th, in the .com market.
Here's the full text of the email:
Hello,

Congratulations! We selected the following title(s) for a Kindle Deal on Amazon.com. Amazon will handle the price updates during this period.

The Heart to Start: Stop Procrastinating & Start Creating (Getting Art Done Book 1) will be discounted to $1.99 in a Kindle Daily Deal which runs on Sep-20-2020.

Please do not update your title(s) price prior to the Kindle Deal date, including using Kindle Countdown Deals and/or Free Book Promotions. If changed, the title(s) will be removed from the Kindle Deal.

If you have any questions about your Kindle Deal, contact us as soon as possible: https://kdp.amazon.com/contact-us

Kind regards,
The Kindle Direct Publishing Team
Step 3: The Kindle Daily Deal results!
Finally, the deal went live. Amazon runs many Kindle Daily Deals each day, so I struggled to find my book on the website. I was even subscribed to their emails and didn't see my book in the email I received.
However, I did finally find my book, listed under Arts & Photography deals.
I wasn't sure what to expect, because k-lytics showed results for several books, ranging from 400%–2,600% increases in copies sold.
That day, I sold 422 copies of The Heart to Start. I had turned off most of my ads, and the previous day, I sold 3. That's actually a 14,000% increase!
The Heart to Start climbed to #352 overall on the Kindle store. Compare that to the BookBub Featured Deal I had a couple months prior, where I spent $6,000, and made it to #136.
To my surprise, I still earned a 70% royalty rate at the $1.99 price (I had expected the deal would drop me down to 35%).
So, I made about $575 from my Kindle Daily Deal, and it didn't cost me a thing. I can't say that I've seen a substantial increase in organic sales since the deal, but it was less than a week ago, so it's too early to say.
I also got a confirmation email for a deal in India. Subscribe to my email updates so you don't miss my next income report, where I share the results.
If you're wondering, Is a Kindle Daily Deal worth it for authors?, I say it definitely is. I would do it again!
If you're wondering, How can I nominate my book for a Kindle Daily Deal?, to my knowledge, you can't. Amazon emailed me out of the blue. Just keep pressing on, publish great books, and get lots of reviews.
Thinking of writing a book?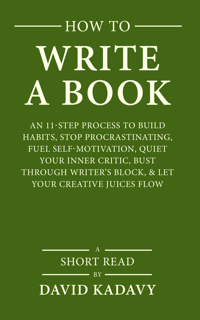 Download your FREE copy of How to Write a Book »
(for a limited time)