Subscribe to blog updates via email »
This week, I share you a story of failure. I know everyone seems to be obsessed with failure lately, and I always thought it was strange. I didn't usually look at things as failures, but as lessons learned.
Well, in this case, I really tried for something, really thought I would succeed, and I really failed. Or at least I felt like it. In actuality, it could just be another lesson learned – another step on the path toward meeting my goal.
This is an article that originally appeared on
Medium
.
Sponsors
WP Engine: Save mental energy managing your WordPress site with easy-to-use DIY features from WP Engine's managed WordPress hosting. Visit wpengine.com/loveyourwork for up to 4 months free.
Treehouse: Take your career to the next level with 1000's of training videos from experts. Treehouse is offering our listeners a free trial. To claim your free trial, and support the show, just go to https://kadavy.net/treehouse
Audible: Choose from over 180,000 audiobooks on any subject you can imagine. Claim your free audiobook at https://kadavy.net/audible
Subscribe to Love Your Work






Listen to the show
Thinking of writing a book?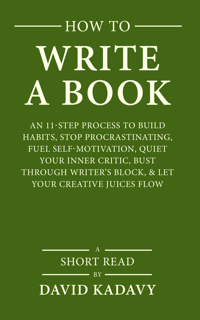 Download your FREE copy of How to Write a Book »
(for a limited time)