Subscribe to blog updates via email »
This is an article that originally appeared on Medium. It was later picked up by The Atlantic's Quartz.
Give yourself permission to do nothing once in awhile. You may be surprised how productive it makes you.
Subscribe to Love Your Work






Sponsors
WP Engine: Save mental energy managing your WordPress site with easy-to-use DIY features from WP Engine's managed WordPress hosting. Visit wpengine.com/loveyourwork for up to 4 months free.
ActiveCampaign: Want to maximize your email marketing? You should try ActiveCampaign. I switched last year from MailChimp and I LOVE it. With email marketing, marketing automation, AND a sales CRM – it's a powerful, intuitive, and complete platform. Claim your 14-day free trial of ActiveCampaign at activecampaign.com/loveyourwork
Audible: Choose from over 180,000 audiobooks on any subject you can imagine. Claim your free audiobook at https://kadavy.net/audible
Listen to the show
Thinking of writing a book?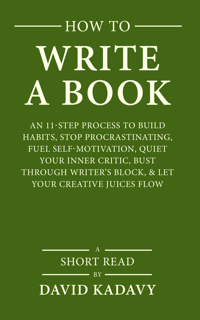 Download your FREE copy of How to Write a Book »
(for a limited time)