Subscribe to blog updates via email »
Google Calendar has been adding new features lately. You can find time for your goals, and set reminders, for example. I played a very small part in these features, but I learned a lot about my own productivity in the process.
 This post originally appeared on
Medium
.
Sponsors
WP Engine: Save mental energy managing your WordPress site with easy-to-use DIY features from WP Engine's managed WordPress hosting. Visit wpengine.com/loveyourwork for up to 4 months free.
ActiveCampaign: Want to maximize your email marketing? You should try ActiveCampaign. I switched last year from MailChimp and I LOVE it. With email marketing, marketing automation, AND a sales CRM – it's a powerful, intuitive, and complete platform. Claim your 14-day free trial of ActiveCampaign at activecampaign.com/loveyourwork
Audible: Choose from over 180,000 audiobooks on any subject you can imagine. Claim your free audiobook at https://kadavy.net/audible
Subscribe to Love Your Work






Listen to the show
Thinking of writing a book?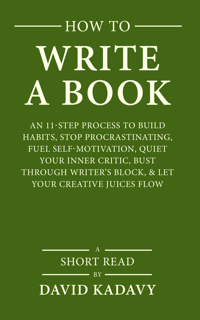 Download your FREE copy of How to Write a Book »
(for a limited time)