Subscribe to blog updates via email »
On July 4th of this year, I was finally hitting my stride. After a year of visa troubles, I had secured a three-year visa. I was finally back in the writing rhythm I had been in before my visa troubles started.
Things had been fucked, and they had become unfucked. Little did I know, everything was about to get even more fucked than it was before.
One thing that got me through the fuckedness that ensued – you'll hear about it in this conversation – was that I had read Everything is F*cked, by Mark Manson (@iammarkmanson).
In this conversation, you'll learn:
How can a book called Everything is F*cked possibly be, as the subtitle promises, A Book About Hope? Everything being fucked doesn't require hope. Hope requires everything to be fucked.
I've talked before on the show about living an "antifragile" life. Learn how to avoid having what Mark calls "fragile values."
Mark says "if there's no reason to live, then there's no reason to not live." How can what Mark calls "the uncomfortable truth," be liberating, instead of deflating?
Photo by Maria Midoes
Listener Showcase
Palle Schmidt has a new book, SOLO – Survival Guide for Creative Freelancers. Palle is giving it away to Love Your Work listeners, for a limited time. Check it out at http://bit.ly/kadavy
Our Weekly Newsletter: Love Mondays
Start off each week with a dose of inspiration to help you make it as a creative. Sign up at: kadavy.net/mondays
Join the Patreon for (new) bonus content!
I've been adding lots of new content to Patreon. Join the Patreon »
Sponsors
Offgrid Mindfulness: Get 10% off the The Awake Mindfulness Clock when you use the code LOVEYOURWORK at https://offgridmindfulness.com. Purchase by December 16th, and get a free travel case.
LinkedIn Jobs: Find the right person meant for your business TODAY with LinkedIn Jobs. Get $50 off your first job post at https://linkedin.com/loveyourwork
Subscribe to Love Your Work






Listen to the Mark Manson Interview
Theme music: Dorena "At Sea", from the album About Everything And More. By Arrangement with Deep Elm Records. Listen on Spotify »
Thinking of writing a book?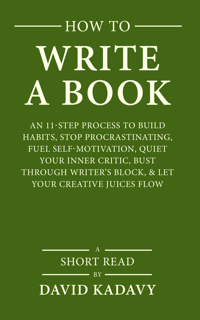 Download your FREE copy of How to Write a Book »
(for a limited time)