Subscribe to blog updates via email »
Mark McGuinness (@markmcguinness) is a creative coach, a poet, and a former psychotherapist and hypnotherapist. Steven Pressfield, author of The War of Art, calls Mark an "overeducated Brit who thinks deeply about stuff you and I have never heard of."
Mark is the host of the 21st Century Creative Podcast (my interview on Mark's podcast). On the 21st Century Creative, Mark explores how to take advantage of the huge opportunities presented by the digital age. This at a time when there are more distractions than ever threatening to take you off course, and fewer traditional safety nets to catch you when you fall.
In this conversation, we'll talk about:
Click here to be creative: How to use mantras, chakras, – and other sometimes thought of as "woo" things – as like graphical user interfaces for altering your mental state.
How the feeling > action > response loop can guide your creative direction: If you're wondering how to create work that really moves people, this is the key.
How to use impostor syndrome to your advantage. It's a double-edged sword, or a sushi knife, as you'll see. Use it carefully.
Mark also mentioned his 20 Creative Blocks list and ebook in the conversation.
Join the Patreon for (new) bonus content!
I've been adding lots of new content to Patreon. Join the Patreon »
Sponsors
University of California Irvine's Division of Continuing Education: Spring quarter is coming up, and registration is open! To advance your career in as little as six months, visit http://ce.uci.edu.
Subscribe to Love Your Work






Listen to the Mark McGuinness Interview
Theme music: Dorena "At Sea", from the album About Everything And More. By Arrangement with Deep Elm Records. Listen on Spotify »
Thinking of writing a book?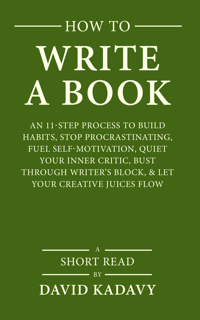 Download your FREE copy of How to Write a Book »
(for a limited time)