Subscribe to blog updates via email »
I just got word that the Mind Management, Not Time Management audiobook is now live on Audible.com. (You can listen free, with a new trial membership). It's almost five months since the book debuted, so I'm relieved to finally have it live. I'm also excited, because this is no doubt my best audiobook ever. It represents many hours of recording and editing work by myself and my audio team.
This approval comes about three weeks after the MP3 version of Mind Management, Not Time Management became available, which is a good timeline as I had heard horror stories of books taking many months to be approved.
This is the first audiobook that I'm debuting without an exclusive Audible/Apple (ACX) contract. As such, the audiobook is available on a number of retailers.
Here is a partial list of retailers where the audiobook is currently live:
Thanks to Findaway Voices' distribution, the audiobook is slated to go live on forty platforms. Check out your favorite platform, and it may even be available for check-out at your local library. I'll try to keep the Universal book link updated as it becomes available in more places.
Thinking of writing a book?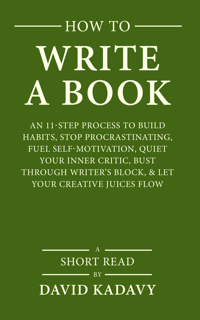 Download your FREE copy of How to Write a Book »
(for a limited time)