Subscribe to blog updates via email »
Tonight I went to a presentation called "Mobile Web and Wireless", put on by the Silicon Valley Web Guild at Microsoft's Silicon Valley Campus. The speakers were Deep Nishar of Google, Rob Katcher of Palm, Ron Mandel of Openwave Systems, and Dan Turchin of Aeroprise.
Microsoft and the guild were a very good host. The "refreshments" at the event included crab cakes, brie, delicious roasted portobello mushrooms, fresh mozarella, and fresh fruit. I wonder if all of that was from Microsoft's cafeteria. It was delicious.
The presentation and discussion was good too, and undeniably held by the experts in the subject. There are some major hurdles to be overcome in making a mobile web experience anywhere near as good as what the web is today. It's impossible to develop for all of the different devices and platforms out there, but at crucial thing for developers to think of now is how differently the web is used when a person is on a mobile device as opposed to when a person is on the traditional web. You aren't likely to spend hours searching for whatever pops into your head on Google, but rather, you may be in an unfamiliar town, and want to know where the nearest Vietnamese restaurant is.
I know the true geeks will find me about a year to late on talking about this, but this is where Google SMS comes in handy. Say you are wandering about my neighborhood, and wanted to find a mexican restaurant. You would just text "mexican 95112" (my zipcode) to GOOGL (46645), Google would then send you the first couple of results. For me it sent:
Iguanas Taqueria
330 S 3rd St #A
San Jose, CA 95112
408-995-6023
Tico's Tacos
291 N 4th St
San Jose, CA 95112
408-297-8421
El Tarasco Mexican Food
170 East Taylor St.
San Jose, CA 95112
408-293-7682
Or say you wanted to see a movie, you could just send a text to 46645 saying, for example, "el crimen perfecto 95112." Tonight it returns:
El Crimen Perfecto
1hr 45min,No Rating,Drama/Comedy.3.8/5
Camera 12 4:40 7:05 9:25
201 South Second Street
San Jose, CA 95112
Yeah! That place happens to be like two blocks away. There is even talk that at some point it may be able to get this information for you based upon your actual location. You can use Google SMS to get many other things such as stock quotes and weather reports, and the ability to look up people and businesses can spare you the hefty 411 fees.
They also discussed the limitations of the actual user interface. Obviously there isn't much screen real-estate to work with, but what about voice browsing? Also, there are some interesting differences in usage amongst various cultures. Some of the reasons that text messaging may have taken off in Europe or Asia may be connected to cultural perceptions about talking in public, as well as the logistics of using a portable device in a car vs. on public transportation. Additionally, youth were using text because it was cheaper than voice, they could text during class and not get caught, and since European cultures and Asian cultures have more generations living together, the phenomenon has just spread.
This is just one of many geeky events that I have attended, and will attend here in the valley. It is positively jam-packed with geeks, and I definitely plan on soaking up everything it has to offer.
Thinking of writing a book?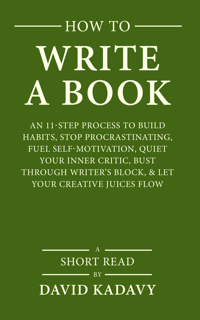 Download your FREE copy of How to Write a Book »
(for a limited time)