Subscribe to blog updates via email »
Benjamin Spall is co-author of the new book, My Morning Routine: How Successful People Start Every Day Inspired. He and his co-author have interviewed 300 successful people from business, fitness, and the arts. People like Biz Stone, Arianna Huffington, General Stanley McCrystal, and Marie Kondo.
The way you spend your first hour of your day sets the tone for the rest of your day. But there seems to be endless ways to you can spend this precious time. Should you meditate? Go for a jog? Do some writing?
Oh, and I'm in the book as well (page 132). They interviewed me about my morning routine, and my evening routine. I'll tell you why I wear the dorkiest orange goggles imaginable before bed.
They've looked for the patterns amongst successful people to find out the things you'll hear about in this conversation. Things like:
What time do successful people get up in the morning? You hear a lot of talk about getting up at 4 a.m.. Is that the norm?
How do successful people manage technology to get the most out of their days? You'll hear a tip from a former Love Your Work guest, Nir Eyal.
And if you haven't optimized your morning routine, the options can be overwhelming. How can you start making lasting changes now?
Join the Patreon for (new) bonus content!
I've been adding lots of new content to Patreon. Join the Patreon »
Sponsors
Skillshare: An online learning community with over 18,000 classes in design, business and more. Get two months of unlimited premium access – for only 99¢! Go to http://skillshare.com/loveyourwork.
Earth Class Mail: Transforms the daily piles of mail, checks, invoices, and correspondence into digital documents that you can act upon. Get 10% off 3 months (or 8% off a whole year) with the promo code LOVE at http://earthclassmail.com.
Weebly: Start your beautiful, modern, easy-to-build Online Store. Get 15% off at http://weebly.com/loveyourwork.
Subscribe to Love Your Work






Listen to the morning routines podcast
Theme music: Dorena "At Sea", from the album About Everything And More. By Arrangement with Deep Elm Records. Listen on Spotify »
Thinking of writing a book?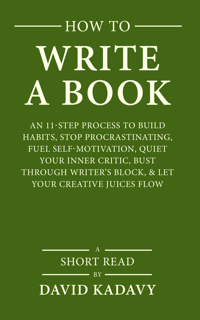 Download your FREE copy of How to Write a Book »
(for a limited time)