Subscribe to blog updates via email »
One of the more subtle underlying themes of this show is that you should invest in yourself. There's a lot of noise out there you'll hear from others who want you to spend your money in ways that will benefit them. Ultimately, you have to be mindful in your decisions so that you're sure you're really investing in yourself.
I'll be talking more about self-investment with my interview of James Altucher next week. For now, this is about the time that I almost went to business school. What I decided to do next defined the course of my career. This article originally appeared on Medium.
Sponsors
WP Engine: Be prepared when you launch a WordPress site. WP Engine has an e-book full of checklists for launching your WordPress site. Download The Ultimate Pre-Launch Checklist for WordPress Sites at wpengine.com/pre
Freshbooks: When you're billing your clients, the last thing you want to waste your time and mental energy on is creating invoices. FreshBooks customers get paid an average of 5 days faster. Get your free 30-day trial at https://kadavy.net/freshbooks
D4H Video: Get $100 off my flagship design course when you use the code LOVEIT at https://kadavy.net/video
Subscribe to Love Your Work






Listen to the podcast episode
Thinking of writing a book?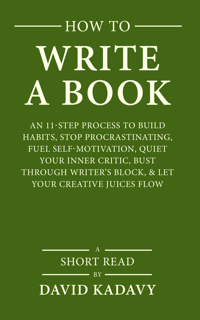 Download your FREE copy of How to Write a Book »
(for a limited time)