Subscribe to blog updates via email »
Most of the pictures you see on this site will have been taken with my Minolta Dimage Xt (its no longer available new on Amazon, but the Minolta Dimage Xg is, and I struggle to see any difference).
I did a great deal of research to find this camera, because I was sick of seeing photo-ops like I was able to capture in CAUTION: Inverted Chairs and not having a camera handy, or going to social gatherings where having a bulky camera was too inconvenient to hassle with. The camera is smaller than my wallet, lightweight, has a flash, zooms up to 3X and with a 256 MB SecureDigital Card, I can take up to 12 minutes of video, with sound, at 320×240 (VHS quality), at 15 frames per second (not VHS quality).
I used this camera to film my ski videos (featuring the music of Criteria), which I edited with iMovie, created the graphic animation with Flash.
The camera is not free of problems, however. Its battery tends to die very rapidly in the cold of skiing conditions, I once had to send it back to the factory for repair (under warranty) because the sliding door that covers the lens wouldn't operate, and the optics, understandably given the camera's small size, are not stellar. I also had an issue on a ski trip during which every evening I would replay the day's movies on the hotel's television set. After all of that replaying, stopping, rewinding, and slow-mo-ing, some of the quicktime movies became irrevocably corrupted. I now try to avoid replaying my precious videos off of the camera.
Thinking of writing a book?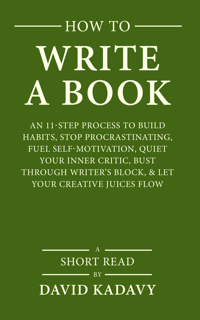 Download your FREE copy of How to Write a Book »
(for a limited time)