Subscribe to blog updates via email »
Things were not going well for Neil Pasricha (@NeilPasricha). He came home from work one day, and his wife told him she no longer loved him. Around that same time, Neil's best friend committed suicide.
Neil needed something to lift his spirits. Something to remind him, every day, that there was something good in the world.
That's when Neil started his blog, 1,000 Awesome Things. At the end of each day, he wrote about one little awesome thing from life.
Today, Neil has written several awesome books, including The Book of Awesome and Awesome is Everywhere. His blog, 1,000 Awesome Things was named Best Blog in the World two years in a row from International Academy of Digital Arts and Sciences, Neil is the Director of The Institute of Global Happiness, and he has a fantastic podcast called 3 Books, on which he's interviewed titans such as Judy Blume, Malcolm Gladwell, and David Sedaris.
Neil's new book is You Are Awesome, and it's all about resilience.
In this conversation, you'll learn:
Neil says "You never know when you're making art, who in your own personal life is going to resonate with it." What surprised Neil about the difference between running a blog, and a podcast.
Neil also says "no one should be embarrassed of any book ever." What is "book shame," and why does Neil feel it should be wiped off the face of the planet.
Neil also says "A reader lives a thousand lives before he dies. The man who never reads lives only one." (And he admits he stole that from Game of Thrones). Hear the fascinating science behind how reading cultivates emotional intelligence.
Listener Showcase
June designs patterns for really cool crocheted figurines. I've seen them. They really are amazing. Check out June's work at planetjune.com and on all of the socials at @PlanetJune.
My Weekly Newsletter: Love Mondays
Start off each week with a dose of inspiration to help you make it as a creative. Sign up at: kadavy.net/mondays
Join the Patreon for (new) bonus content!
I've been adding lots of new content to Patreon. Join the Patreon »
Sponsors
HoneyBook: HoneyBook organizes all of your client communications, bookings, contracts, and invoices. Get 50% off when you visit https://honeybook.com/loveyourwork.
LinkedIn Jobs: Find the right person meant for your business TODAY with LinkedIn Jobs. Get $50 off your first job post at https://linkedin.com/loveyourwork
Listen to the Neil Pasricha Interview
Theme music: Dorena "At Sea", from the album About Everything And More. By Arrangement with Deep Elm Records. Listen on Spotify »
Thinking of writing a book?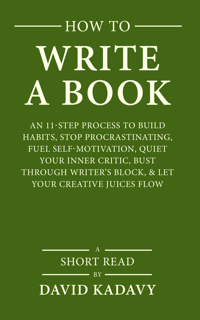 Download your FREE copy of How to Write a Book »
(for a limited time)