Subscribe to blog updates via email »
The world around us can program certain goals into our minds. If we aren't careful, we can end up with goals that have nothing to do with our happiness.
You might not even realize that you expect to become a billionaire someday. You might be better off admitting to yourself that's not what you want.
Join Love Your Work Premium
Would you like to hear raw, ad-free interviews, weeks in advance? Just join Love Your Work Premium. For a small amount per month, you'll get access to ad-free interviews weeks in advance. Just go to kadavy.net/premium to sign up.
Sponsors
Freshbooks: When you're billing your clients, the last thing you want to waste your time and mental energy on is creating invoices. FreshBooks customers get paid an average of 4 days faster. Claim your free 30-day trial at http://freshbooks.com/loveyourwork. (Enter "Love Your Work" in the "How Did You Hear About Us?" section.)
Subscribe to Love Your Work






Listen to the Podcast
Thinking of writing a book?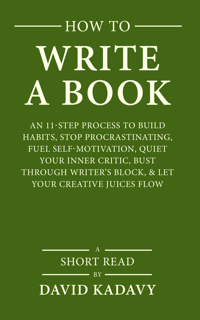 Download your FREE copy of How to Write a Book »
(for a limited time)