Subscribe to blog updates via email »
As regular listeners know, I recently self-published for the first time. I traditionally-published my first book, Design for Hackers, and I had a good experience. I liked having the extra support for getting my book laid out and printed, and onto shelves around the world, and as a first-time author, I really needed the vote of confidence and accountability of a publishing contract.
But this time around, with my new book The Heart to Start, I had a lot to learn. Fortunately, it turned out that I had already built many of the skills I needed to self-publish.
I'm glad that I never stopped learning. Whether you dream of publishing a book, or of doing something else, today's article will help inspire you to keep learning.
Join the Patreon for (new) bonus content!
I've been adding lots of new content to Patreon. Join the Patreon »
Subscribe to Love Your Work






Listen to the Podcast
Theme music: Dorena "At Sea", from the album About Everything And More. By Arrangement with Deep Elm Records. Listen on Spotify »
Thinking of writing a book?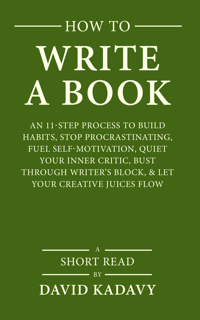 Download your FREE copy of How to Write a Book »
(for a limited time)