Subscribe to blog updates via email »
How's it going? Really, how are things going for you? If things are going pretty good, you might want to tear everything down, and start all over again.
Nick Kokonas (@nickkokonas) is Co-Owner of The Alinea Group and CEO of Tock. The Alinea Group is a collection of restaurants Nick started with world-class chef Grant Achatz, including their first restaurant, Alinea – a three-Michelin-star restaurant that received the James Beard Foundation Award for Outstanding Restaurant in 2016. Alinea is also ranked in the top restaurants in the U.S. and the world on numerous lists, including World's 50 Best Restaurants.
Tock, Nick's other company, is a reservation system for buying tickets to some of the best restaurants in the world. With Tock, Nick has completely re-thought the economics of restaurants, eliminating wasted seating inventory, and making available variable pricing based upon the popularity of reservation times.
Nick is a truly original thinker. He's demonstrated this on his appearances on some other podcasts, including The Tim Ferriss Show and Noah Kagan Presents. But this conversation is full of fresh insights, including:
Nick says "people are far more afraid of success than failure." What drives Nick to tear everything down and start over, even when things are going well?
Nick also says "if you're trying to innovate. A/B Testing things as a terrible idea because people won't know what they want." But there's an important distinction he draws. Find out when he tests, and when he doesn't.
At Alinea, they intentionally make the first moments of dining there incredibly awkward. Seriously, I was cringing hearing him describe this. Nick said "there are people who hate us for it, and I'm okay with that." Find out why.
Thanks for sharing my work!
On Instagram, thank you to @booknotes101 for doing a giveaway of The Heart to Start.
Thank you also to @characelik, @5wisdomsproject, and of course @tomjepsoncreative.
On Twitter, thank you to @mischievousmali, @geekosupremo, @Palle_Schmidt, @LouisSzabo, @LovinDaLife, and @LWCvL.
My Weekly Newsletter: Love Mondays
Start off each week with a dose of inspiration to help you make it as a creative. Sign up at: kadavy.net/mondays
Join the Patreon for (new) bonus content!
I've been adding lots of new content to Patreon. Join the Patreon »
Listen to the Nick Kokonas Interview
Theme music: Dorena "At Sea", from the album About Everything And More. By Arrangement with Deep Elm Records. Listen on Spotify »
Thinking of writing a book?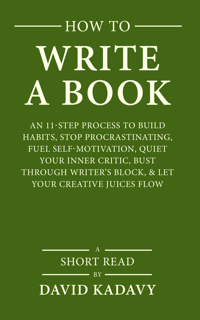 Download your FREE copy of How to Write a Book »
(for a limited time)