Subscribe to blog updates via email »
What if your smartphone didn't distract you? What if your focus couldn't be shaken by social media, by the latest news story, or even by your coworkers?
What if you could be indistractable? Imagine what you could accomplish.
Nir Eyal's (@nireyal) new book will help you do just that. Indistractable: How to Control Your Attention and Choose Your Life will lead you away from dis-traction, so you can get traction.
You may remember Nir being on Love Your Work a couple of times before. We talked about the societal implications of distracting technology more than three years ago, on episode 21. And now he's back to show you how to fight back distractions – whatever the source.
In this conversation, you'll learn:
Nir wrote the Bible on building habit-forming products: Hooked is a Wall Street Journal best-seller. So why would he also write the book on how to avoid being distracted by these products?
How can you reimagine distraction to short-circuit it at its source? Nir helps you redesign your triggers, your task, and your temperament.
Why is the myth of multitasking a myth in itself? Nir shows you how "multichannel multitasking" can help you do two things at once, while being as focused as ever.
Full disclosure, Nir is a book marketing client of mine. I consulted for him on some marketing tasks for this book, Indistractable. Of course, I rarely take clients, and I only did so because I respect Nir so much as an author and a thinker, and because I loved the book!
Thanks for sharing my work!
On Twitter, @noidentity_uk, @MPozdnev, and @JeffPossiel. On Instagram, @tomjepsoncreative.
New Weekly Newsletter: Love Mondays
Start off each week with a dose of inspiration to help you make it as a creative. Sign up at: kadavy.net/mondays
Join the Patreon for (new) bonus content!
I've been adding lots of new content to Patreon. Join the Patreon »
Subscribe to Love Your Work






Listen to the Nir Eyal Interview
Support the show on Patreon
Put your money where your mind is. Patreon lets you support independent creators like me. Support now on Patreon »
Links and resources mentioned
Theme music: Dorena "At Sea", from the album About Everything And More. By Arrangement with Deep Elm Records. Listen on Spotify »
Thinking of writing a book?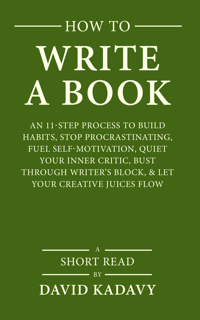 Download your FREE copy of How to Write a Book »
(for a limited time)