Subscribe to blog updates via email »
Lots of people want to build a "legacy." They want to be remembered when they're gone.
It's a natural product of our fear of death. But is it realistic to want to build a legacy? Is it realistic to believe you can control whether or not you're remembered? And might aiming to build a legacy prevent you from doing the type of work that builds legacies in the first place?
I examine these questions in this week's episode.
Support the show
Put your money where your mind is. Patreon lets you support independent creators like me. Get early access, bonus content, and other perks. Support now on Patreon »
Sponsors
Upcoming webinar: How can you find the motivation to make it as a solopreneur? I'll be sharing my tricks in my upcoming webinar. Learn more at http://kadavy.net/motivation.
Subscribe to Love Your Work






Listen to the Podcast
Theme music: Dorena "At Sea", from the album About Everything And More. By Arrangement with Deep Elm Records. Listen on Spotify »
Thinking of writing a book?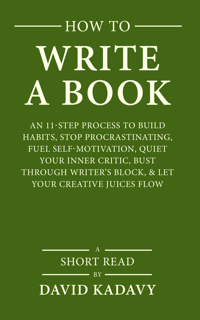 Download your FREE copy of How to Write a Book »
(for a limited time)