Subscribe to blog updates via email »
Some of you already know that I'm writing a new book. Getting Art Done will help you overcome Resistance and bring your work into the world.
I had much of my own Resistance to fight to get this book project underway. I spent three months working on a book proposal, then I failed to get a literary agent.
That was a tough blow, but what really flipped the switch for me was the conversation I had with Seth Godin. You'll be able to hear that entire conversation with Seth next week, so be sure you're subscribed.
Subscribe to Love Your Work






Sponsors
Freshbooks: When you're billing your clients, the last thing you want to waste your time and mental energy on is creating invoices. FreshBooks customers get paid an average of 4 days faster. Claim your free 30-day trial at http://freshbooks.com/loveyourwork. (Enter "Love Your Work" in the "How Did You Hear About Us?" section.)
Listen to the podcast
Thinking of writing a book?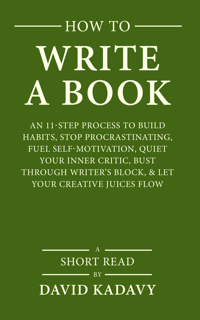 Download your FREE copy of How to Write a Book »
(for a limited time)