Subscribe to blog updates via email »
Eric Zimmer (@etzimmer) was living in a van. He had Hepatitis C and weighed 100 pounds. Then he got arrested and lost his job. He was facing up to forty years in jail time. He had a $300-a-day addiction to heroin.
Today, Eric is host of the popular podcast, The One You Feed, which was named one of the best podcasts on iTunes in 2014, and has more than 10 million downloads. The One You Feed is based upon an old parable about a good wolf and a bad wolf at battle inside each of us. The one who wins is the one you feed.
Eric straightened out his life and has overcome addiction. He helps others not only through The One You Feed, but also through behavioral coaching work.
How did Eric go from a $300-a-day heroin addiction to 13 years clean and sober? We'll find out today.
We'll also talk about:
The delicate relationship between creative pursuit and self image. How can creativity become a scapegoat for self-destruction, or a vehicle for self improvement?
How was Eric able to integrate friendship and his love for music into his podcast? The One You Feed helps him feed his "good wolf."
Why is Eric grateful that he was drawn to heroin? Counterintuitively, the victory of a "bad wolf" can spring the "good wolf" into action.
And if you'd like to hear Eric interview me on The One You Feed, my episode went live yesterday! We talk about the importance of making good/bad judgement calls when you're trying to make it as a creator. Listen here.
New Weekly Newsletter: Love Mondays
Start off each week with a dose of inspiration to help you make it as a creative entrepreneur. Sign up at: kadavy.net/mondays
Chicago Meetup!
I'm in Chicago next week. Meet me at the Love Your Work meetup. Details and tickets here.
Join the Patreon for (new) bonus content!
I've been adding lots of new content to Patreon. Join the Patreon »
Subscribe to Love Your Work






Listen to the Eric Zimmer Interview
Links and resources mentioned
Theme music: Dorena "At Sea", from the album About Everything And More. By Arrangement with Deep Elm Records. Listen on Spotify »
Thinking of writing a book?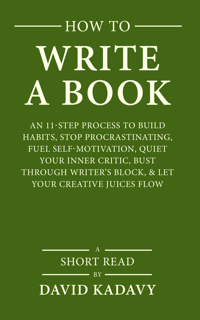 Download your FREE copy of How to Write a Book »
(for a limited time)