Subscribe to blog updates via email »
This post is going to be a disaster. I'm going to just barf it out. That's how this all started in the first place. Remember when blogging used to be a casual thing? Then you have a few readers, and you start thinking, "I better make sure that I provide quality content. I better make sure every post is really great." You make a few good posts, try spending hours refining a few others, and what do you get? Nothing. It's perfection paralysis. A wise man recently told me, "done beats perfect every time." Well, perfect and done beats done, but if you're going for perfect, you never get done. Capicé?

Let's get back to personal for the first time in a long time. What have I been up to? Well, I decided San Jose isn't so nice a place for living, so I moved to San Francisco. I'm still doing the commute, which I'm still working the kinks out of. It's about two hours door-to-door when you count walking to the BART station, waiting for the BART, connecting to CalTrain, waiting for CalTrain, walking to the office. Need to get a bike. I'm glad to be living somewhere where trains are actually a great option. CalTrain rides are relaxing and productive. Hey, I'm on one as I'm writing this post!
Working on some side projects. Flatmate Meetup is one of them. Yeah, I found a place (the old-fashioned way: Craigslist) but I'm still doing this thing. I'm amazed at how great an idea everyone thinks it is. Every time I have one people are very excited. Honestly, I think more people hook up from the Flatmate Meetup than actually find roommates, but I'll keep doing this thing and we'll what happens.
I'm excited to be living in San Francisco. Sure, there's lots of hipsters, but it's an incredibly experimental place. I'm going to juice this concentrated population of experimental geniuses for all it's worth. Watch out for more from me.
I hear the Midwesterners right now. Isn't San Francisco, expensive? Yes. Really expensive. $960-to-share-a-three-bed-one-bath-that's-actually-a-two-bedroom-with-a-converted-dining-room-expensive. It will be worth it.
That was quite refreshing. I'll have to make a conscious effort to crank out lower-quality posts more often. Maybe you'll actually get to know David Kadavy after all.
Thinking of writing a book?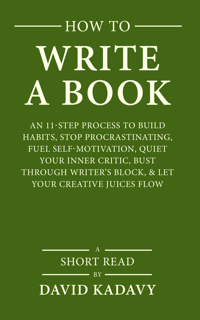 Download your FREE copy of How to Write a Book »
(for a limited time)