Subscribe to blog updates via email »
Peter Bragiel wanted his own travel show. So, he got a camera and started traveling. At first, not much happened. He just kept stowing the tapes away in a box.
But, eventually, his adventures got bigger, and his videos got better. He's traveled the entire trans-Siberian railway, he's canoed the entire Mississippi river, and he even rode a tiny scooter, with a maximum speed of 29 miles-per-hour, across the United States. Peter's adventures are released on his YouTube channel, under the brand In-Transit TV.
And Peter makes a living off of these travel videos. He's worked with brands such as Range Rover and American Express. He also learned Spanish using Rosetta Stone, as preparation for a sponsored trip to Cuba. (He ended up crashing a vintage car during the shoot. You'll hear about that, and what they did about it.)
---
This week's episode is a great story about making dreams happen. How did Peter finally get the courage to publish his videos? How does he plan bigger and bigger trips? Why did Peter – who worked as a runway model in Milan, and an actor in Los Angeles – reject the gatekeepers and choose himself?
I can't help but feel, after listening to this conversation, that Peter and I are a lot alike. It seems like he has always felt compelled to travel and make videos, even if it didn't immediately make sense. I know I'm always spending hours on things that don't immediately make sense.
I especially liked hearing about how things he wrote in his journal years ago, eventually came to light. I think this is important to be aware of. Your subconscious is always trying to tell you something about your destiny, so it pays to listen.
Sponsors
Freshbooks: When you're billing your clients, the last thing you want to waste your time and mental energy on is creating invoices. FreshBooks customers get paid an average of 5 days faster. Get your free 30-day trial at https://kadavy.net/freshbooks
Treehouse: Take your career to the next level with 1000's of training videos from experts. Treehouse is offering our listeners a free trial. To claim your free trial, and support the show, just go to https://kadavy.net/treehouse
Subscribe to Love Your Work






Listen to the podcast episode
Thinking of writing a book?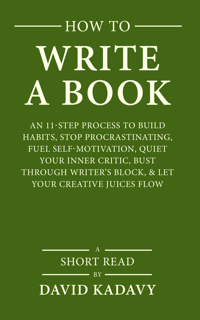 Download your FREE copy of How to Write a Book »
(for a limited time)